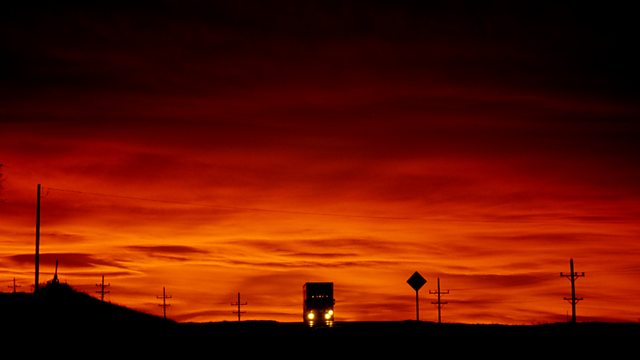 13/01/2009
With Jonathan Swain.
1.00am
Durante, Francesco (1684-1755): Concerto in B flat for harpsichord and string orchestra
Gerald Hambitzer (harpsichord)
Concerto Koln
1.11am
Delius, Frederick (1862-1934): To be sung of a summer night on the water for chorus, RT IV 5
Estonian Philharmonic Chamber Choir
Paul Hillier (conductor)
1.17am
Mundy, John (c.1555-1630): Lightly she whipped o'er the dales for 5 voices (The Triumphes of Oriana)
The King's Singers
1.20am
Britten, Benjamin (1913-1976): Fanfare for St Edmundsbury for three trumpets
The Graham Ashton Brass Ensemble
1.24am
Ford, Andrew (b.1957): Headlong
Sydney Symphony Orchestra
Jeffrey Tate (conductor)
1.32am
Walton, William (1902-1983): Concerto for cello and orchestra
Pieter Wispelwey (cello)
Sydney Symphony Orchestra
Jeffrey Tate (conductor)
2.05am
Elgar, Edward (1857-1934): Symphony No 1 in A flat, Op 55
Sydney Symphony Orchestra
Jeffrey Tate (conductor)
3.00am
Stravinsky, Igor (1882-1971): Pulcinella
Lynne Dawson (soprano)
Rolando Villazon (tenor)
Denis Sedov (baritone)
Radio France Philharmonic Orchestra
Marc Minkowski (conductor)
3.38am
Stradella, Alessandro (1639-1682): Sara ver ch'io mai disciolga; Fulmini quanto sa
Emma Kirkby (soprano)
David Thomas (bass)
Alan Wilson (harpsichord)
Jakob Lindberg (lute)
The Consort of Musicke
Anthony Rooley (director/lute)
3.49am
Cavalli, Francesco (1602-1676): Sonata a 8
Concerto Palatino
3.54am
Boccherini, Luigi (1743-1805): Concerto in E flat for harpsichord and orchestra, G487
Eckart Sellheim (fortepiano)
Collegium Aureum
Franzjosef Meier (conductor)
4.10am
Kyurkchiyski, Krasimir (b.1936): A Little Bird is Singing
Koutev, Philip (1903-1982): Dragana and the Nightingale
Sofia Chamber Choir
Vassil Arnaudov (conductor)
4.17am
Farkas, Ferenc (1905-2000): Five Ancient Hungarian Dances for wind quintet
Tae-Won Kim (flute)
Hyong-Sup Kim, Pil-Kwan Sung (oboes)
Hyon-Kon Kim (clarinet)
Sang-Won Yoon (bassoon)
4.27am
Bartok, Bela (1881-1945) arr. Arthur Willner for strings: Romanian folk dances, Sz 56
I Cameristi Italiani
4.35am
Ipavec, Benjamin (1829-1908): Ciganka Marija (Maria the Gypsy)
Ana Pusar Jeric (soprano)
Natasa Valant (piano)
4.39am
Rachmaninov, Sergey (1873-1943): Caprice bohemien, Op 12
Queensland Symphony Orchestra
Vladimir Verbitsky (conductor)
5.00am
Viotti, Giovanni Battista (1755-1824): Duo concertante in B flat
Alexandar Avramov, Ivan Peev (violins)
5.08am
Corelli, Arcangelo (1653-1713): Trio sonata in C, Op 8, No 3
Il Seminario Musicale
Gerard Lesne (director)
Caldara, Antonio (1670-1736): Medea in Corinto
Il Seminario Musicale
Gerard Lesne (countertenor/director)
5.31am
Abel, Carl Friedrich (1723-1787): Symphony in D, K23
La Stagione Frankfurt
Michael Schneider (conductor)
5.40am
Moeschinger, Albert (1897-1985): Wind Quintet on Swiss Folksongs, Op 53
Members of La Strimpellata Chamber Orchestra, Bern
6.00am
Muller-Zurich, Paul (1898-1993): Capriccio for flute and piano, Op 75
Andrea Kolle (flute)
Desmond Wright (piano)
6.07am
Wolf, Hugo (1860-1903): Italian Serenade for string quartet
Ljubljana String Quartet
6.16am
Weber, Carl Maria von (1786-1826): Concertino in E flat for clarinet and orchestra, Op 26
Kari Kriikku (clarinet)
Finnish Radio Symphony Orchestra
Sakari Oramo (conductor)
6.26am
Bruckner, Anton (1824-1896): Three motets
The Sokkelund Choir
Morten Schuldt-Jensen (conductor)
6.40am
Brahms, Johannes (1833-1897): Variations on a theme by Haydn, Op 56a
Bergen Philharmonic Orchestra
Simone Young (conductor).
Last on