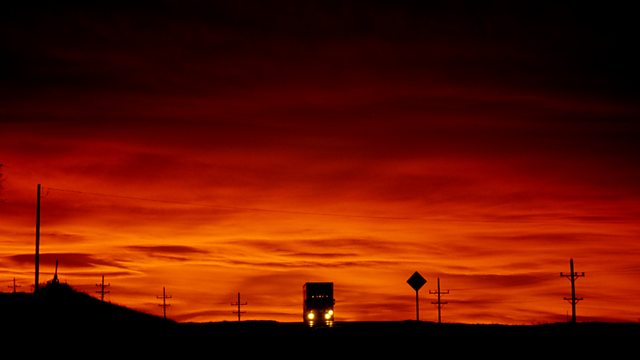 10/01/2009
With Jonathan Swain.
1.01am
Janacek, Leos (1854-1928): String Quartet No 1 (Kreutzer Sonata)
1.20am
Smetana, Bedrich (1824-1884): String Quartet No 2 in D minor
1.41am
Dvorak, Antonin (1841-1904): String Quartet No 12 in F, Op 96 (American)
2.08am
Smetana: Allegro sostenuto (String Quartet No 1 in E minor - From my life)
Pavel Haas Quartet:
Veronika Jaruskova, Marie Fuxova (violin)
Pavel Nikl (viola)
Peter Jarusek (cello)
2.18am
Suk, Josef (1874-1935): Elegie, Op 33
Suk Trio
2.24am
Dvorak, Antonin (1841-1904): Legends, Op 59 (No 4 in C)
Winnipeg Symphony Orchestra
Kazuhiro Koizumi (conductor)
2.31am
Novak, Vitezslav (1870-1949): Trio in D minor for piano and strings, Op 27 (quasi una ballata)
Suk Trio
2.47am
Janacek, Leos (1854-1928): The Fiddler's Child - ballad for orchestra
Peter Thomas (violin)
BBC Scottish Symphony Orchestra
Ilan Volkov (conductor)
3.01am
Tchaikovsky, Pyotr Il'yich (1840-1893): Marche Slave, Op 31
Slovenian Radio and Television Symphony Orchestra
Marko Munih (conductor)
3.11am
Haydn, Joseph (1732-1809): Symphony No 100 in G, H I 100 (Military)
New Zealand Symphony Orchestra
Mark Taddei (conductor)
3.36am
Elgar, Edward (1857-1934): Military March in D, Op 39, No 1 (Pomp and Circumstance)
David Drury (organ)
3.43am
Liszt, Franz (1811-1886): Scherzo and March, S177
Jeno Jando (piano)
3.56am
Wagner, Richard (1813-1883): Siegfrieds Trauermarsch (Gotterdammerung)
Zagreb Philharmonic
Lovro von Matacic (conductor)
4.04am
Moscheles, Ignaz (1794-1870): Grandes variations sur la marche favorite de l'Empereur Alexandre I in F for piano, Op 32
Tom Beghin (fortepiano)
4.21am
Kuula, Toivo (1883-1918): Festive March, Op 13
Finnish Radio Symphony Orchestra
George de Godzinsky (conductor)
4.31am
Mendelssohn, Felix (1809-1847) transcr. Felix Dreyschoeck: Wedding March and Elfins Dance (A Midsummer Night's Dream, Op 61)
Felix Dreyschoeck (piano)
4.39am
Matteis, Nicola (d.c.1707): Passages in Imitation of the Trumpet
Anon (17th century): 5 Marches (John Playford's new tunes)
Matteis: Chaconne, Plaint, Ecchi
Pedro Memelsdorff (recorder)
Andreas Staier (harpsichord)
4.49am
Grieg, Edvard (1843-1907): Triumphal March (Sigurd Jorsalfar)
Danish Radio Concert Orchestra
Roman Zeilinger (conductor)
5.01am
Bach, Johann Sebastian (1685-1750): Concerto in D minor for two violins, BWV 1043
Espen Lilleslatten, Renata Arado (violin)
Bergen Philharmonic Orchestra
Ivor Bolton (conductor)
5.17am
Haydn, Joseph (1732-1809): Mass in B flat (Missa brevis Sancti Joannis de Deo - Kleine Orgelmesse)
Henriette Schellenberg (soprano)
Laverne G'Froerer (mezzo-soprano)
Keith Boldt (tenor)
George Roberts (baritone)
Vancouver Chamber Choir
CBC Vancouver Orchestra
Jon Washburn (conductor)
5.34am
Faure, Gabriel (1845-1924): Piano Trio in D minor, Op 120
Grumiaux Trio
5.56am
Bartok, Bela (1881-1945): Divertimento for strings, Sz 113
Amadeus Polish Radio Chamber Orchestra in Poznan
Agnieszka Duczmal (conductor)
6.20am
Obradors, Fernando (1897-1945): Canciones clasicas espanolas (excerpts)
Isabel Bayrakdarian (soprano)
James Parker (piano)
6.34am
Liszt, Franz (1811-1886) after Schubert, Franz: Soirees de Vienne (No 6 in A minor)
Teresa Carreno (piano)
6.43am
Handel, Georg Frideric (1685-1759): Music for the Royal Fireworks, HWV 351
Norwegian Radio Orchestra
Roy Goodman (conductor).
Last on