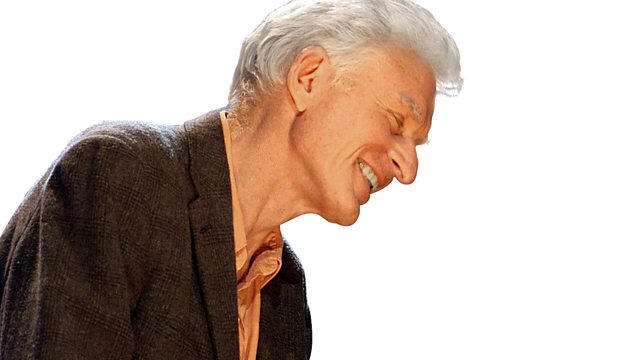 Manu Chao Special
Charlie Gillett died this week and as a tribute to the former presenter of World on 3, there's another chance to hear his Manu Chao Special, first broadcast in 2009. Charlie was joined in the BBC's Maida Vale studios by the world music superstar who performed an acoustic solo session, and introduced his favourite tracks.
Charlie Gillett, who presented World on 3 on Radio 3, and a weekly World Service programme, has died at the age of 68. He had stopped working for the BBC in January, because of ill health.
Tributes from listeners poured in to the BBC website after news of Gillett's death last night.
From his work for Radio London in the 1970s Gillett built a long and successful career, championing new music and world music. He was instrumental in the discovery of Dire Straits, playing their demo tape on his Radio London show, and at one stage managed Kilburn and High Roads, whose lead singer was Ian Dury. He was also influential in the spread of the wide range of styles and artists collectively known as world music and championed the careers of Youssou N'Dour, Salif Keita and Mariza.
Manu Chao was born in Paris in 1961 of Spanish parents: they had left Spain to escape Franco's rule. He founded a punk band 'Mano Negra' in 1987, which enjoyed great popularity in the French and Spanish-speaking worlds. Inspired by a tour of Latin America on a train in the 1990s, Manu changed his musical course and began performing in a new style with influences from street music, reggae and everyday sounds. His 1998 album 'Clandestino' soon attracted a strong following, and his second album 'Proxima Estacion: Esperanza' brought him world fame. He released his third album 'La Radiolina' in 2007.
World on 3
Presented by Charlie Gillett
Produced by Roger Short
Tel 020 7765 4661
Fax 020 7765 5052
e-mail worldon3@bbc.co.uk
Albero Panachco: Cumbia Cienaguera
Luis Enri Martinez
Album: Arriba la Cumbia
Crammed Discs CRAWXX
Chao: La Vida Tombola
Manu Chao
Album: La Radiolina
Because BEC5772125
Studio Session:
Manu Chao (guitar/vocals)
Chao: Amalucada Vida
Manu Chao
BBC Recording, Maida Vale Studios
Ben: Ponta de Lanca African (Umbabarauma)
Jorge Ben
Album: Beleza Tropical Brazil Classics 1
Luaka Bop LKBP1
Carotone: Casillero
Tonino Carotone
EMI Spain
Liqor de negro café
Planeta Grelos
Album: Mariatchi Boogie
Estofonia Riera UMA10253844F08
In-session
Trad: Carratero
Manu Chao
BBC Recording, Maida Vale Studios
M. Cherfi: Le plus Beau
Zebda
Album: Utøpie D'Occase
Universal 065088-2
Piaf: Non, Je Ne Regrette Rien
Bernadette Soubirou Et Ses Apparitions
Album: Je Vous Salis ma Rue
Griffe Records
ONB: Alaou
Orchestre National de Barbez
Album: En Concert
Virgin 8440092
SMOD: Tedeja
SMOD
Album: No Rastaar
White label
In-session
Chao: Bad reputation
Manu Chao
BBC Recording, Maida Vale Studios
Buika: Volver, Volver
Concha Buika
Album: Nina de fuego
WCJ 2564695477
Boom: El Desorden
Nando Boom
Album: Dancehall Reggaespañol
Columbia Records
Chao: Guayaquil City
Manu Negra
Album: Puta's Fever
Virgin Records
In-session
Marley: Mr Bobby
Manu Chao
BBC Recording, Maida Vale Studios
Gonzalves: Abatina
Drew Gonzalves & Kobo Town
Album: Independence
Drew Gonzalves Label
Batata: The heart of the drums
Batata y su Rumba Palenquera
Album: Radio Bakongo
Network LC6759
In-session
Chao: La Vida Tombola
Manu Chao
BBC Recording, Maida Vale Studios
Chao: Santa Maradonna
Manu Negra
Album: Casa Babylon
Virgin 7243 8 39655 2 6
Chao: Bongo Bong
Manu Chao
Album: Clandestino
Virgin 821838129028
Chao: Mentira
Manu Chao
Album: Clandestino
Virgin 821838129028
Last on