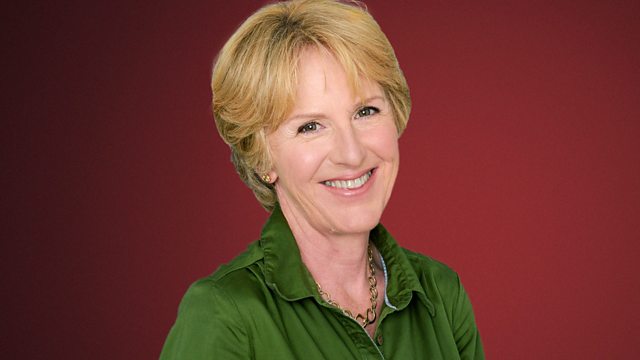 05/01/2009
With Jonathan Swain.
1.00am
Chopin, Fryderyk (1810-1849): 3 pieces for piano
1.16am
Beethoven, Ludwig van (1770-1827): Sonata quasi una fantasia in C sharp minor for piano, Op 27 No 2 (Moonlight)
Havard Gimse (piano)
1.31am
Dvorak, Antonin (1841-1904): Song to the Moon (Rusalka, Op 114)
1:37am
Grieg, Edvard (1843-1907), arr. Max Reger: I Love Thee (Hjertets melodier, Op 5)
1.39am
Coward, Noel (1899-1973): I'll follow my secret heart (Conversation Piece)
Yvonne Kenny (soprano)
Melbourne Symphony Orchestra
Vladimir Kamirski (conductor)
1.44am
Strauss, Johann II (1825-1899), arr. Alban Berg: Wein, Weib und Gesang (arr. for string quartet, piano and harmonium)
Canadian Chamber Ensemble
Raffi Armenian (conductor)
1.55am
Kunzen, Friedrich (1761-1817): Overture (Vinhoesten)
Danish Radio Concert Orchestra
Peter Marschik (conductor)
2.00am
Stenhammar, Wilhelm (1871-1927): Varnatt
Swedish Radio Choir and Symphony Orchestra
Stefan Skold (conductor)
2.09am
Giuliani, Mauro (1781-1829): Six Variations for violin and guitar, Op 81
Laura Vadjon (violin)
Romana Matanovac (guitar)
2.18am
Bach, Johann Sebastian (1685-1750): Concerto No 1 in A minor for violin and string orchestra, BWV1041
La Petite Bande
Sigiswald Kuijken (violin/conductor)
2.32am
Mozart, Wolfgang Amadeus (1756-1791): Concerto No 21 in C for piano and orchestra, K467
Havard Gimse (piano)
Trondheim Symphony Orchestra
Susanna Malkki (conductor)
3.01am
Locatelli, Pietro Antonio (1695-1764): Sonata in D for violin and continuo, Op 8 No 2
Gottfried von der Goltz (violin)
Torsten Johann (harpsichord/positive organ)
Lee Santana (theorbo)
3.12am
Poulenc, Francis (1899-1963): Sonata for oboe and piano
Roger Cole (oboe)
Linda Lee Thomas (piano)
3.26am
Milhaud, Darius (1892-1974): 3 Psaumes de David, Op 339
Elmer Iseler Singers
Elmer Iseler (conductor)
3.35am
Vivaldi, Antonio (1678-1741): Nisi dominus (Psalm 127), RV608
Matthew White (countertenor)
Arte dei Suonatori
Eduardo Lopez (conductor)
3.55am
Copi, Ambroz (b.1973): Psalm 108 (My heart is steadfast)
Chamber Choir AVE
Andraz Hauptman (conductor)
4.00am
Arnic, Blaz (1901-1970): Suite about the well, Op 5
Slovenian Radio and Television Symphony Orchestra
Lovrenc Arnic (conductor)
4.32am
Paganini, Niccolo (1782-1840): Duetto amoroso
Tomaz Lorenz (violin)
Jerko Novak (guitar)
4.42am
Bellini, Vincenzo (1801-1835): Vanne o rosa fortunate; Bella Nice, che d'amore
Nicolai Gedda (tenor)
Miguel Zanetti (piano)
4.48am
Berlioz, Hector (1803-1869): Waverley - overture, Op 1
Radio Bratislava Symphony Orchestra
Ondrej Lenard (conductor)
5.01am
Bruhns, Nicolaus (1665-1697): Die Zeit meines Abschieds ist vorhanden (cantata)
Greta De Reyghere (soprano)
James Bowman (countertenor)
Guy de Mey (tenor)
Max van Egmond (bass)
Ricercar Consort
5.08am
Buxtehude, Dietrich (1637-1707): Canzona (fugue) in G for organ, BuxWV 175
Bernard Lagace (organ)
5.12am
Enna, August (1859-1939): Five piano pieces
Ida Cernecka (piano)
5.26am
Nielsen, Carl (1865-1931): Quintet for wind, Op 43
Cinque Venti
5.50am
Trad: Swedish Folk Melody
Young Danish String Quartet
5.53am
Boeck, August de (1865-1937): Fantasie on two Flemish folksongs
Belgian Radio and Television Philharmonic Orchestra
Alexander Rahbari (conductor)
6.01am
Ysaye, Eugene (1858-1931): Violin Sonata No 3 in D minor, Op 27 (Ballade)
Ana Savicka (violin)
6.09am
Ockeghem, Johannes (c.1410-1497): Salve regina
Hilliard Ensemble
6.20am
Desprez, Josquin (c.1450/55-1521): In te domine speravi
Anon. (c.1500): Zorzi, Giorgio (Salterello); Forte cose e la speranza
Clare Wilkinson (mezzo-soprano)
Musica Antiqua of London
Philip Thorby (viol/director)
6.28am
Brusselmans, Michel (1886-1960): Scenes after Breughel - symphonic sketches
Vlaams Radio Orkest
Bjarte Engeset (conductor)
6.43am
Gossec, Francois-Joseph (1734-1829): Symphony in D, Op 5 No 5 (Pastorella)
Tafelmusik
Jeanne Lamon (conductor).
Last on