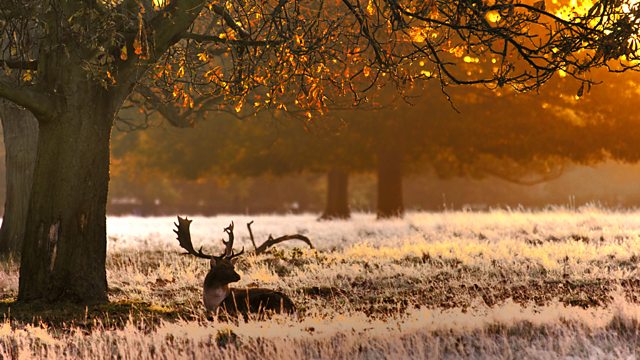 The Year
This edition of Words and Music explores the changing seasons for the first programme of the New year. Andrew Lincoln and Emma Fielding read a selection of poetry interspersed with seasonal music.
I chose Ted Hughes' Seasons Songs as a thread for the programme. These fine poems are full of sharp observation and the feeling of natural forces of destruction and renewal. Alongside Ted Hughes, I chose a range of poetry which picked up on these themes from Thomas Hardy, Robert Frost and William Blake among others.
I selected some music directly linked to seasons - from Piazzolla's atmospheric tangos from Kremerata Baltica, to Cage's studies in sound for his Seasons and the legendary recording of Gershwin's Summertime from Sarah Vaughan. At other times, there's abstract music which seemed to match the mood of the readings. Fretwork's recording of Byrd leads to Robert Grave's A Prayer for Spring; Steve Reich's Music for mallet instruments, voices and organ matches picks up on the "famous express" of Hughes' Deceptions leading to Gerald Manley Hopkins's poem about the cuckoo where "the whole landscape flushes on a sudden at a sound".
A centre point for the programme is Samuel Barber's Summer Music in a vibrant recording by the Berlin Philharmonic Wind Quintet which leads to the playful poem "Hay" by Ted Hughes.
The programme draws to a close with DH Lawrence's elegy for winter, and Ligeti's sparse Atmospheres. I end with Tennyson's poem, Death of the Old Year which beautifully depicts the feeling of loss at the end of the year, and tentative hope as a new year begins.
Jessica Isaacs (producer)
Readers: Emma Fielding (EF) and Andrew Lincoln (AL)
00:00:00
Sir Michael Tippett: New Year space ship landing
Bournemouth Symphony Orchestra conducted by
R. Hickox
Chandos CHAN 9299 Tk 5
00:00:05
Ted Hughes: New Year Song (EF)
00:01:40
Let an anthem praise
Parley of instruments and Peter Holman
Hyperion CDA66924 Tk 2
00:04:15
Thomas Hardy At the entering of the New Year (AL & EF)
00:05:45
Byrd: Te lucis a 4 no 2, verse 2
Fretwork
Virgin classics VC5450312 Tk 21
00:07:00
Robert Frost 'A Prayer in Spring' (EF)
00:08:30
Mahler arr Berio: Fruhlingsmorgen
Andreas Schmidt (baritone)
Radio-Sinfonie-Orchester Berlin
conducted by C. Garben
RCA 09026611842 Tk 12
00:10:00
Ted Hughes: March morning unlike others (AL)
00:11:30
Piazzolla: Primavera portena
Gidon Kremer/Kremerata Baltica
Nonesuch 7559795682 Tk 16
00:13:20
Chaucer: General Prologue from Canterbury Tales
read in Middle English by Trevor Eaton
Pearl GEM0160
00:14:20
In the merry month of May
Deller Consort/Alfred Deller
Vanguard 08503971 Tk 23
00:16:00
Wordsworth: Lines written in Early Spring (AL)
00:17:00
Richard Rodgers June is burstin out all over (from Carousel)
Claramae Turner, Barbara Ruick and mixed chorus
Capitol CDP7466352 Tk 6
00:21:00
Reich: Music for mallet instruments, voices and organ
Amiata ARNR0393 Tk 1
00:21:20
Ted Hughes: Deceptions (AL & EF)
00:22:20
Gerald Manley Hopkins: Repeat that, repeat (AL)
00:25:20
Barber: Summer Music
Berlin Philharmonic Wind Quintet
BIS CD952BIS Tk 1
00:36:30
Ted Hughes: Hay (EF)
00:37:30
Sumer is a-comin in
The Dufay Collective
Chandos Chan 9396 Tk 20
00:42:00
Piazzolla: Verano porteno
Gidon Kremer and Kremer Baltica
Nonesuch 7559795682 Tk 4
00:43:40
William Blake: The schoolboy (AL)
00:44:40
Cage: Seasons
Margaret Leng Tan: prepared piano, toy piano
American Composers Orchestra
conducted by D. Russell Davies
ECM 4651402 Tk 4
00:46:00
Summertime
Sarah Vaughan
Mercury 83069922
Tk 12
00:49:00
Ted Hughes: The Harvest moon (EF)
00:50:00
El-Khoury: Autumn leaves
Orchestre Colonne conducted by P. Dervaux
Naxos 8557692 Tk 7
00:53:00
Rossetti: Autumn Song (AL)
00:53:30
Ted Hughes: Leaves (EF & AL)
00:54:20
Ligeti: Autumn at Varsovie
Toros Can (piano)
Empreinte Digitale Ed 13125 Tk 6
00:56:15
Ted Hughes: The Seven Sorrows (EF)
00:57:45
Vivaldi: Concerto in F major, Op 8 no 3
Adagio molto
Gidon Kremer & Kremerata Baltica Tk 10
01:00:30
Thomas Hardy: Darkling Thrush (AL)
01:01:36
Cage: The Seasons
American Composers Orchestra
conducted by D. Russell Davies ECM 4651402
Tk 2
01:03:00
Ted Hughes: Warrior of Winter (EF)
01:04:00
DH Lawrence: A Winter's Tale (AL)
01:05:00
Ligeti: Atmospheres
Vienna Philharmonic Orchestra
conducted by C. Abbado
DG 4292602 Tk 2
01:07:00
Ted Hughes: Warm and Cold (EF)
01:08:00
Lux Hodie
The Boston Camerata
Nonesuch 71315
Tk 9
01:09:00
Tennyson: Death of the Old Year (EF)
01:12:00
Byrd: Miserere a 4
Fretwork
Virgin classics VC5450312
Tk 22
Last on