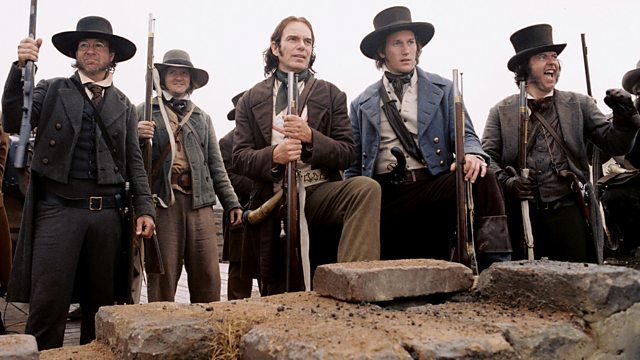 The Alamo
The story of the historic 1836 battle in the Texan War of Independence. Facing huge numbers of Mexican troops, a small band of Texan soldiers and volunteers - including William Travis, Davy Crockett and Jim Bowie - retreat within the walls of the Alamo, a Franciscan mission that was converted into a military fort. Once inside, the men prepare themselves for what will be a bloody battle to the death.
BBC iPlayer - unavailable episode
This episode is not available on BBC iPlayer.  Programmes are unavailable for a number of reasons including legal, contractual or technical issues.
Credits
| Role | Contributor |
| --- | --- |
| Davy Crockett | Billy Bob Thornton |
| Sam Houston | Dennis Quaid |
| William Travis | Patrick Wilson |
| Jim Bowie | Jason Patric |
| Santa Ana | Emilio Echevarria |
| Juan Seguin | Jordi Molla |
| Susanna Dickinson | Laura Clifton |
| Sergeant William Ward | Leon Rippy |
| Micajah Autry | Kevin Page |
| Colonel Green Jameson | Tom Davidson |
| Albert Grimes | Robert Prentiss |
| Director | John Lee Hancock |
| Producer | Brian Grazer |
| Producer | Mark Johnson |
| Producer | Ron Howard |
| Writer | Leslie Bohem |
| Writer | Stephen Gaghan |
| Writer | John Lee Hancock |