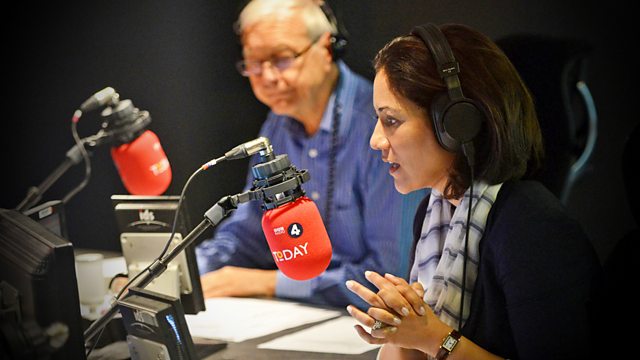 08/01/2009
Presented by Evan Davis and Edward Stourton.
Natalia Antelava analyses the likelihood of Hezbollah joining the Gaza conflict.
Hugh Pym reports on what the government can do as interest rates drop closer to zero.
Parvin Ali and Rabbi Gabriel Farhi debate the repercussions of the conflict in Gaza for European Muslims and Jews.
Management consultant Peter York and Mark Hedges, of Country Life, discuss why old English brands are being so badly hit by the recession.
Jeremy Bowen says Hezbollah has rearmed since 2006.
A turbine on a wind-farm in Lincolnshire has been badly damaged in what local residents claim was a collision with a UFO.
Mark Simpson reports on an apparent sighting of a ghost in Northern Ireland.
Thought for the day with the Rev Angela Tilby.
Gabriel Gatehouse and MP Ed Miliband discuss the UK's reliance on gas from other countries.
John Redwood and Roger Bootle debate whether interest rates should be cut.
Alastair Crook analyses the possible groups behind the rocket attacks on Israel from Lebanon.
Actors Toby Jones and Rory Kinnear discuss the current glut of movies with real-life figures as their stars.
Christopher Rodrigues of Visit Britain and Channel Five's Hotel Inspector Alex Polizzi discuss how the tourism industry will cope in the recession.
MP Hazel Blears and Mark Wallace of the Taxpayers' Alliance discuss if the cabinet should meet outside London.
Jonah Fisher visits a high security prison to report on an anger management programme proving popular with inmates.
Dr Mike Grocott discusses the findings of the group of doctors who climbed Everest to conduct experiments on themselves.
Lord Hurd and Lord Hattersley discuss whether Edward Heath and James Callaghan were undervalued as leaders.
Last on
So you think you know the Today programme?