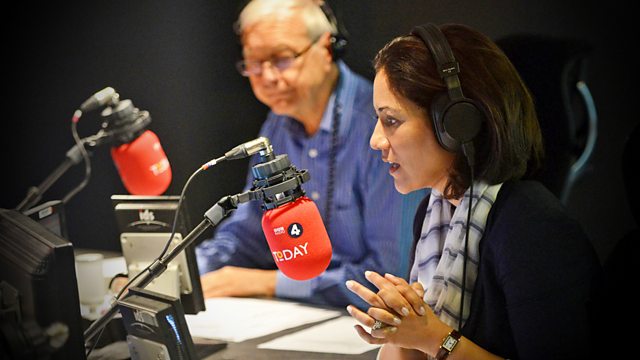 07/01/2009
Presented by Sarah Montague and James Naughtie.
Robert Peston reports on the trading statement released by Marks and Spencer.
Gordon Corera reports on the media interview given by Jonathan Evans, the first to be granted by a serving head of MI5.
Christian Fraser reports on an agreement to monitor Egypt's border with Gaza, which would be key to a ceasefire.
Bishop Patrick O'Donoghue discusses the legal obligation not to rule out gay couples as adoptive parents with Jim Cullen, director of children's services at Catholic Caring Services.
Ferran Tarradellas discusses the effects in Eastern Europe of Russia's dispute with Ukraine over the gas pipeline.
Tim Richardson discusses gardens.
Thought for the day with Dr Usama Hasan.
The Israeli Ambassador to Britain, Ron Prosor, discusses if the proposal devised by the Egyptians and French for a ceasefire between Israel and Hamas could be agreed.
Sir Stuart Rose, executive chairman of M&S, and Simon Wolfson, chief exec of Next, discuss the future of the high street.
Nicola Stanbridge investigates the introduction of 'boy-friendly' books into one primary school.
Author Charlie Higson and novelist Frank Cottrell-Boyce discuss how boys can be encouraged to read.
Middle East editor Jeremy Bowen and Abdel Bari Atwan, editor of pan-Arab newspaper Al-Quds Al-Arabi, review the reaction of the Arabic media to the events in Gaza.
Mark Easton explains a new code of practice for the release of government statistics.
Prof Simon Baron-Cohen and Prof Joy Delhanty discuss pre-natal screening.
Russian expert Michael Stuermer discusses the importance of gas and oil to the Russian economy.
Prof Steven Rose says there are mysteries of the mind that scientists have not even begun to unravel.
Last on