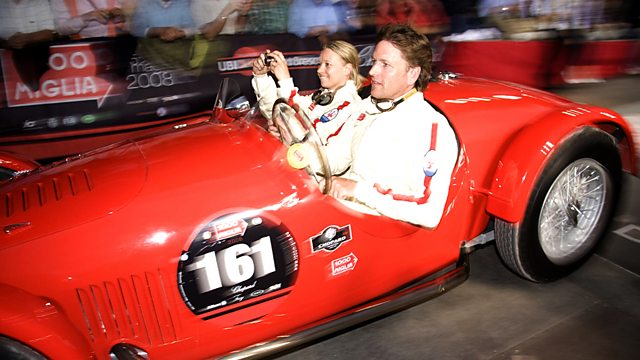 The Real Italian Job: James Martin's Mille Miglia
James Martin sets his sights on the gruelling Mille Miglia, the annual 1000-mile race through Italy in which over 300 classic cars compete. In its infamous history, the race has tested the talents and endurance of such legends as Fangio, Nuvolari and Sir Stirling Moss
Ever since he was kid in Yorkshire, James Martin has been mad about cars. Now a successful chef, he has put his money where his dreams are and has a garage full of Formula One cars, American classics and oddball delights - from hand-painted Harleys to bubble cars, fibreglass cross-country rough riders and a newly restored Mustang with all the trimmings.
Having the power has not been enough - he wants the glory too. So he sets his sights on the Mille Miglia. Taking part has always been a dream for James. He searches for the right car and the right co-driver, and the costs mount as the day of his dreams draws near. In Italy, the support crew, girlfriend Sally and his real pride and joy assemble. The 1948 Maserati has left a 800-thousand-pound hole in the Martin finances - a lot of omelettes.
Will the car stay the course? Will Sarah measure up? Is James as tough as he thinks he is? Can a non-Italian actually win? Can he beat the three other competitors with whom he bets on the race? Do the Italians always drive on the right? Should he have bought an English car instead? Crucially, what makes 700 grown men and women drive headlong through the elements for three days with little sleep and less comfort than offered by a sit-on lawn mower?
Credits
| Role | Contributor |
| --- | --- |
| Participant | James Martin |
| Director | Lionel Mill |
| Producer | Lionel Mill |
| Executive Producer | Lisa Edwards |
| Executive Producer | Alan Ravenscroft |
| Narrator | Paul Kaye |