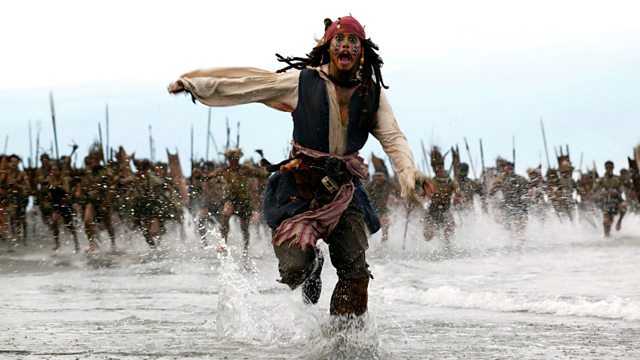 Pirates of the Caribbean: Dead Man's Chest
Swashbuckling action sequel. To repay a debt to a powerful supernatural crew, Jack Sparrow enlists the help of a swordsman and his bride-to-be to seek out the mysterious Davy Jones's Locker.
The couple have their own agenda, however, having been freed from prison by the British on condition that they capture the infamous pirate's legendary compass.
Mary Anne Hobbs asks Hans Zimmer just how important is the soundtrack to a movie?
Credits
| Role | Contributor |
| --- | --- |
| Jack Sparrow | Johnny Depp |
| Will Turner | Orlando Bloom |
| Elizabeth Swann | Keira Knightley |
| Bootstrap Bill | Stellan Skarsgard |
| Davy Jones | Bill Nighy |
| Norrington | Jack Davenport |
| Gibbs | Kevin R McNally |
| Governor Weatherby Swann | Jonathan Pryce |
| Pintel | Lee Arenberg |
| Ragetti | Mackenzie Crook |
| Cotton | David Bailie |
| Cutler Beckett | Tom Hollander |
| Tia Dalma | Naomie Harris |
| Captain Bellamy | Alex Norton |
| Very Old Man | Derrick O'Connor |
| Shrimper | Robbie Gee |
| Director | Gore Verbinski |
| Writer | Ted Elliott |
| Writer | Terry Rossio |
| Producer | Jerry Bruckheimer |
| Composer | Klaus Badelt |
| Director of photography | Dariusz Wolski |