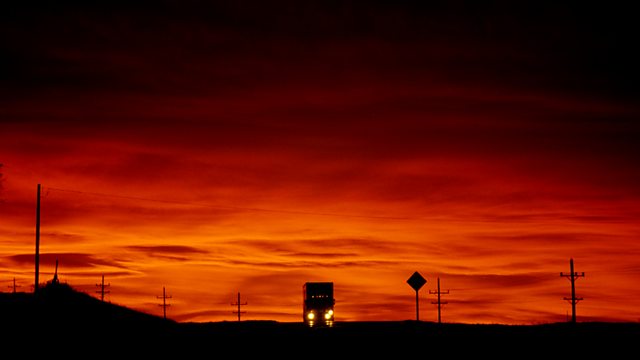 03/01/2009
With John Shea.
1.00am
Poulenc, Francis (1899-1963): Sonata for violin and piano
1.20am
Franck, Cesar (1822-1890): Sonata in A for violin and piano, M8
1.48am
Ravel, Maurice (1875-1937): Tzigane - rapsodie de concert for violin and piano
1.57am
Ravel, Maurice (1875-1937), arr. Fritz Kreisler: Hababera for violin and piano
Janine Jansen (violin)
Kathryn Stott (piano)
2.01am
Milhaud, Darius (1892-1974): Scaramouche (Suite for two pianos after incidental music for Le medecin volant)
James Anagnoson, Leslie Kinton (pianos)
2.11am
Durufle, Maurice (1902-1986): Quatre motets sur des themes gregoriens, Op 10
Talinn Music High School Chamber Choir
Evi Eespere (director)
2.20am
Tailleferre, Germaine (1892-1983): Sonata for harp
Godelieve Schrama (harp)
2.30am
Poulenc, Francis (1899-1963): Gloria in G for soprano, chorus and orchestra
Annick Massis (soprano)
Choeur de Radio France
Orchestre National de France
George Pretre (conductor)
3.00am
Mahler, Gustav (1860-1911): Symphony No 1 in D
Bergen Philharmonic Orchestra
Arthur Fagan (conductor)
3.57am
Schumann, Robert (1810-1856): Piano Concerto in A minor, Op 54
Emil Gilels (piano)
Zagreb Philharmonic Orchestra
Pinchas Steinberg (conductor)
4.31am
Ravel, Maurice (1875-1937): String Quartet in F
Bartok Quartet
5.00am
Mozart, Wolfgang Amadeus (1756-1791): Overture (Die Zauberflote, K620)
Bergen Philharmonic Orchestra
Michael Christie (conductor)
5.08am
Kunzen, Friedrich (1761-1817): Symphony in G minor
Concerto Copenhagen
Lars Ulrik Mortensen (conductor)
5.25am
Glick, Srul Irving (1934-2002): Suite Hebraique No 5 for flute, clarinet, violin and cello
Suzanne Shulman (flute)
James Campbell (clarinet)
Andrew Dawes (violin)
Daniel Domb (cello)
5.41am
Grechaninov, Alexandr Tikhonovich (1864-1956): 6 Motets, Op 155
Radio France Chorus
Yves Castagnet (organ)
Vladislav Chernuchenko (conductor)
6.00am
Beethoven, Ludwig van (1770-1827): String Quintet in C, Op 29
Par-Ola Lindberg (viola)
Yggdrasil String Quartet
6.33am
Haydn, Joseph (1732-1809): Symphony No 44 in E minor (Trauer)
Danish National Radio Symphony Orchestra
Michael Schonwandt (conductor).
Last on