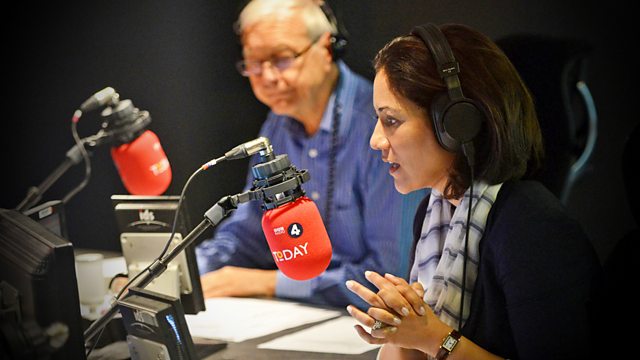 01/01/2009
Presented by Evan Davis and Edward Stourton.
With guest editor Sir Win Bischoff, chairman of Citigroup.
Sir Win Bischoff visits a Career Academy scheme at Sir George Monoux College in Walthamstow, East London.
Anshu Jain, head of global markets at Deutsche Bank, discusses if Britain's role as a business service centre is sustainable.
Karen AbuZayd, commissioner general of the United Nations Relief and Works Agency, and Captain Benjamin Rutland, of the Israeli Defence Force, discuss the current situation in Gaza.
Sir Win Bischoff talks to Chinese tycoon CH Tung about how events in 2008 have affected China.
Tim Montgomerie of unofficial Tory website ConservativeHome, discusses s survey on David Cameron's leadership.
Are schools doing enough to teach financial literacy? We speak to the Secretary of State for Children, Schools and Families, Ed Balls.
Adam Shaw visits the Manchester velodrome to meet Olympic cyclist Sir Chris Hoy.
Thought for the day with the Reverend Dr Giles Fraser, Vicar of Putney.
Hamas government spokesman Taher al-Nono discusses if Hamas will stop firing rockets and Dr Hassan Khalaf, director of the Al Shifa hospital in Gaza, describes the situation the PM described as a "humanitarian crisis".
Sir Win Bischoff, chairman of Citigroup, discusses if anyone could have predicting the current situation in the economy.
Jeremy Bowen, and Martin Indyk, former US ambassador to Israel, discuss George Bush's public calls for Hamas to stop firing rockets into Israel.
Control of Baghdad's fortified green zone is to transfer from the United States to the Iraqi security forces. Caroline Wyatt considers the Iraqi move to take greater control of its own security.
Professor Tony Badger, of Cambridge University, discusses what can be learned from President Roosevelt's strategy for tackling the Great Depression.
Can any useful parallels be drawn between conducting an orchestra and running a company? Sir Win Bischoff visits the English National Opera to speak to musical director Ed Gardner.
Ruth Lee, economic adviser to the Arbuthnot Banking Group, and Mark Leonard, executive director of the European Council on Foreign Relations, discuss if the UK will be joining the euro any time soon.
Sir Win Bischoff discusses the choices he made and the experience of editing the Today programme.
Last on
New Year's Day 2009
06:00