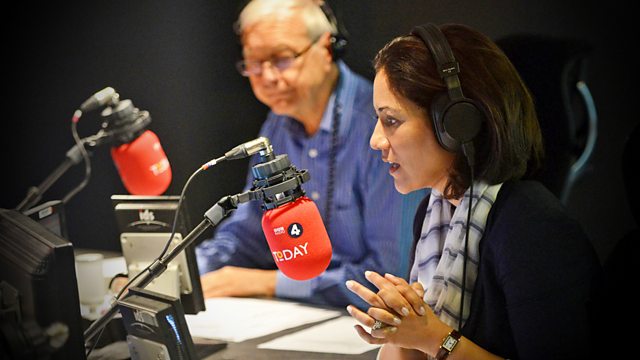 02/01/2009
Presented by Edward Stourton and Sarah Montague.
With Architect Zaha Hadid as guest editor.
Tom Feilden visits Lincoln Cathedral and Zaha Hadid's own offices to investigate a new, technology-inspired burst of architectural creativity.
Caroline Wyatt visits Baghdad University to see what the building reveals about the city's history.
Anthony Smith of Passenger Focus and Michael Roberts of the Association of Train Operating Companies discuss rail fare rises.
Deyan Sudjic profiles one of guest editor Zaha Hadid's projects, the Phaeno Science Centre in Germany.
Humphrey Hawksley speaks to Baghdad residents who remember its "glory years" and Professor Sami Zubaida discusses the cultural scene in Baghdad since the 1950s.
What will Israel's next step be in the Gaza Strip? Edward Stourton discusses the latest developments in the conflict. Israeli Public Service Minister Avi Dichter says Israel was prepared for Hamas to fight back.
Tim Franks reports on the cities where guest editor Zaha Hadid believes the next globally symbolic buildings are being built.
Thought for the day with Canon Dr Alan Billings, an Anglican Priest.
Lord Goldsmith discusses the role European countries should play in assisting with the closure of Guantanamo Bay military prison.
Health Minister Ben Bradshaw and Tam Fry, of the National Obesity Forum, discuss ways of tackling obesity.
Chanel designer Karl Lagerfeld discusses his life in fashion.
Former EU diplomat Alistair Crooke discusses the situation in Gaza.
Avant Garde architects Sir Peter Cook and Charles Jencks discuss the Architectural Association.
Zaha Hadid explains the choices she made when commissioning items for the programme and what inspires her to create the sort of buildings she designs.
Last on