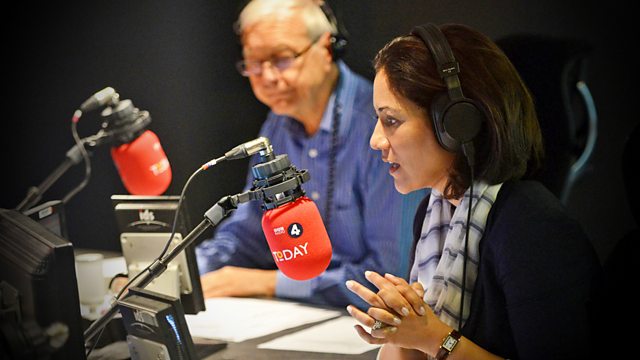 27/12/2008
Presented by James Naughtie and Evan Davis.
A nurse who has been missing for more than a week has been found alive in the boot of her own car. Colin Blane reports.
Dominic Nutt, of Save the Children's Emergency Response team in Zimbabwe, discusses if he thinks the humanitarian crisis in the country is purely man made.
Wendy Urquhart visits a London branch of Woolworths as it opens for its last day of trading.
Barbara Plett meets some of the people who were there on the day Pakistan's former Prime Minister Benazir Bhutto was assassinated.
Hugh Pym looks at the economic crisis through the eyes of newspaper cartoonists.
Mark Dummett explains what the first parliamentary elections in seven years means to the people of Bangladesh.
Richard Galpin reports on the inclusion of former Soviet dictator Joseph Stalin in a poll to find the greatest Russian ever to have lived?
Thought for the day with the novelist and columnist Anne Atkins.
British Ambassador to Afghanistan Sir Sherard Cowper-Coles says everything is being done to make sure elections in Afghanistan take place.
Stephen Robertson, director general of the British Retail Consortium, and David Smith, chairman of the Shadow Monetary Policy Committee, discuss the prospects for retailers in 2009.
Etiquette expert Jean Broke-Smith discusses a study in the US which claims that writing thank you letters has psychological benefits.
Ed Stourton is to leave Today late next year when Justin Webb joins the programme. He thanks listeners for all their kind support and hopes that he can get back to reporting the news, rather than being on it.
Father Reginald Foster, who has translated texts into Latin for various Popes, looks back on his most unusual career at the Vatican.
Former editor of the Sunday Times Sir Harold Evans, Patience Wheatcroft, former editor of the Sunday Telegraph, and historian David Kynaston, discuss the big political and financial stories of the year.
Matthew Oates, a nature conservation adviser at the National Trust says disaster is never far away for British wildlife.
Actor Michael Gambon pays tribute to playwright Harold Pinter.
Paul Wood says newspapers are reporting that Israel is planning a military assault in Gaza.
Georg Holm, of the band Sigur Ros - one of Iceland's most successful exports, reflects on the turbulent economic times the country has gone through.
Last on