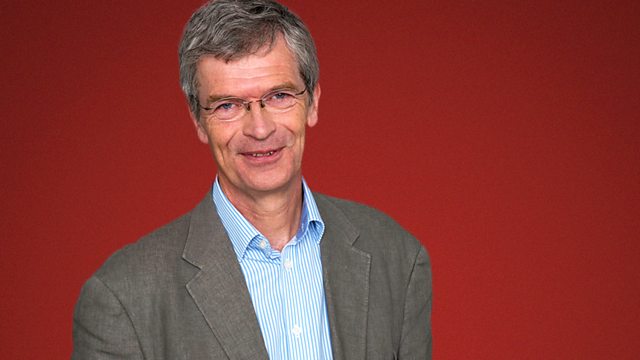 27/12/2008
With Geoffrey Smith
Including:
JRR Signature Tune:
Oh, but on the Third Day (Happy Feet Blues) (Marsalis)
Performed by Wynton Marsalis (tpt), Marcus Roberts (pno), Todd Williams (tsx), Dr Michael White (clt), Danny Barker (bjo), Teddy Riley (tpt), Freddie Lonzo (tbn), Reginald Veal (bs), Herlin Riley (dms)
Recorded 28 October 1988
Taken from the album The Majesty of the Blues
1989 CD (CBS 465129 2)
High Noon (Dimitri Tiomkin) (2'35'')
Performed by Bernie Glow, Stan Fishelson, Nick Travis (tp) Frank Rehak, Jim Dahl (tb) Gene Quill (as) Morty Lewis (ts) Sol Schlinger (bar) Hal Schaefer (p) Chet Amsterdam (b) Stan Webb (reeds) Charlie Persip (d)
Recorded NY, April 1958
Taken from the album Showcase
LP (London HAT 2147; Side 1 / Track 6)
Rug Cutter's Swing (Henry "Red" Allen) (2'47'')
Performed by Russell Henry "Red" Allen (tp) Claude Jones (tb) Buster Bailey (cl) Russell Procope, Hilton Jefferson (as) Horace Henderson (p,arr) Lawrence "Larry" Lucie (g) Elmer James (b) Walter Johnson (d)
Recorded New York, September 25, 1934
Taken from the album Swing Out
1996 CD (Topaz TPZ 1037; Track 17)
Denomination Blues (Washington Phillips) (5'30'')
Performed by Washington Phillips (dolceola,vcl)
Recorded Dec 5 1927
Taken from the album I Am Born to Preach the Gospel
1991 CD (Yazoo YAZOO2003(1); Track 8)
Just One More Chance (Arthur Johnston / Sam Coslow) (3'10'')
Performed by Lucky Thompson and his Lucky Seven:
Neal Hefti (tp) Benny Carter (as,arr,comp) Lucky Thompson (ts) Bob Lawson (bar) Dodo Marmarosa (p) Red Callender (b) Lell Young (d)
Recorded Los Angeles, April 22 1947
Taken from the album Esquire All-American Hot Jazz Sessions
1989 CD (Bluebird ND 86757(1))
Streets of London (McTell) (3'23")
Performed by The Neo-Troglodytes: Wally Fawkes (clt), Colin Smith (tpt), Campbell Burnap (voc, tbn), Doug Murray (pno), Tony Desborough (bs), Derek Hogg (dms)
Recorded 25 November 1978, Eltham
Taken from the album The Neo-Troglodytes
1979 LP (Dawn Club DCS 33.001, side 1 track 2)
African Mailman (Nina Simone) (3'07'')
Performed by Nina Simone (p) Jimmy Bond (b) Albert "Tootie" Heath (d)
Recorded New York, 1957
Taken from the album Nina Simone
1999 CD (Charly CDGR295(1); Track 14)
Ko-didi (Victor Williams) (7'30'')
Performed by Mongezi Feza (tp) Dudu Pukwana (as) Victor Williams (p,el-p,voice) Peter Cowling (b-g) John Stevens (d) Bob (cga)
Recorded London October 14 & 15 and November 30 1974
Taken from the album Flute Music
LP (Caroline CA 2005. Side 1 / Track 3)
Blue Chopsticks (Herbie Nichols) (6'12'')
Performed by Roswell Rudd (tb) Steve Lacy (sop) Misha Mengelberg (p) Kent Carter (b) Han Bennink (d)
Recorded Milan, Italy, Jun 25 & 26 1982
Taken from the album Regeneration
LP (Soul Note SN1054; Side 1 / Track 1)
Black Coffee (Sonny Burke / Paul Francis Webster) (7'47'')
Performed by Sonny Criss (as) Walter Davis (p) Paul Chambers (b) Alan Dawson (d)
Recorded NY, Oct 21 1966
Taken from the album This is Criss
1990 CD (Prestige OJCCD4302(1); Track 1)
All Night Dance (Bennie Wallace) (5'45'')
Performed by Ray Anderson (tb) Bennie Wallace (ts) Rabbit Edmonds (sax) Mac "Dr. John" Rebennack (p) Stevie Ray Vaughan (el-g) Bob Cranshaw (el-b) Bernard "Pretty" Purdie (d)
Recorded NY early 1985
Taken from the album Twilight Time
LP (Blue Note BT 85107; Side 1 / Track 1)
Skin Deep (Louie Bellson) (6'46'')
Performed by Duke Ellington and his Orchestra:
Clark Terry, Willie Cook, Cat Anderson (tp) Ray Nance (tp) Quentin Jackson, Britt Woodman, Juan Tizol (tb) Jimmy Hamilton (cl,ts) Russell Procope (as,cl) Hilton Jefferson, Paul Gonsalves (as) Harry Carney (bar) Duke Ellington (p) Wendell Marshall (b) Louie Bellson (d)
Recorded NY August 12 1952
Taken from the album Ellington Uptown
CD (Columbia/Legacy 512917 2; Track 1)
Don't forget, you can have your say on today's programme, or any aspect of jazz, by visiting the Jazz Messageboard.
The BBC is not responsible for the content of external internet sites.
Jazz Record Requests
Presented by Geoffrey Smith
Producer: Benedict Warren
Saturday 27 December 2008 5pm–6 pm
Last on