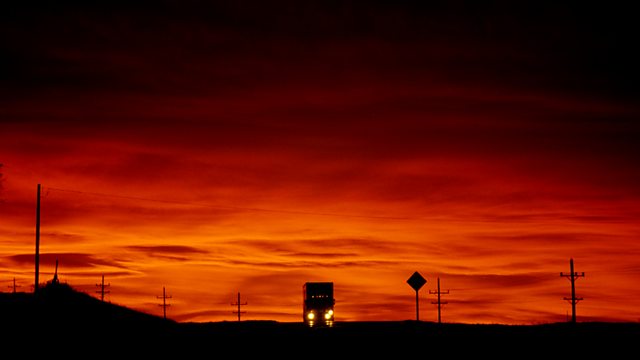 26/12/2008
With John Shea.
1.01am
Tchaikovsky, Pyotr Il'yich (1840-1893): Violin Concerto in D, Op 35
Kathy Kang (violin)
Bergen Philharmonic
Dmitri Kitaenko (conductor)
1.39am
Tchaikovsky, Pyotr Il'yich (1840-1893): Symphony No 1 in G minor (Winter Daydreams)
Bergen Philharmonic
Alan Buribayev (conductor)
2.22am
Westlake, Nigel (b. 1958): Winter in the Forgotten Valley
Guitar Trek
2.34am
Samuel-Rousseau, Marcel (1882-1955): Variations pastorales sur un vieux Noel
Erica Goodman (harp)
Members of the Amadeus Ensemble:
Moshe Hammer and Barry Schiffman (violins)
Douglas Perry (viola)
Jack Mendelsson (cello)
2.44am
Boccherini, Luigi (1743-1805): Quintet in D for guitar and strings, G448 (arr. for guitar quartet and string orchestra)
Zagreb Guitar Quartet
Varazdin Chamber Orchestra
3.03am
Tromboncino, Bartolomeo (c.1470-c.1535): S'il dissi mai for voice and lute
Diane Plante (vocals)
Ensemble Claude-Gervaise
Gilles Plante (director)
3.08am
Moszkowski, Moritz (1854-1925): Piano Concerto in E, Op 59
Janina Fialkowska (piano)
Kitchener-Waterloo Symphony Orchestra
Raffi Armenian (conductor)
3.45am
Paderewski, Ignacy Jan (1860-1941): Nocturne in B flat, Op 16 No 4
Ignacy Jan Paderewski (piano)
3.50am
Mozart, Wolfgang Amadeus (1756-1791): Bassoon Concerto in B flat, K191
Dag Jensen (bassoon)
Oslo Philharmonic Orchestra
Paavo Berglund (conductor)
4.09am
Strauss, Johann II (1825-1899): Overture (Die Fledermaus); Tik-Tak, Op 365; Csardas
Waterloo Symphony Orchestra
Raffi Armenian (conductor)
4.25am
Wiren, Dag (1905-1986): Marcia (March) from Serenade for Strings, Op 11
CBC Vancouver Orchestra
Mario Bernardi (conductor)
4.30am
Martinů, Bohuslav (1890-1959): Tango-Lento (La revue de cuisine)
Timothy Lines (clarinet)
Mihaela Martin (violin)
Frans Helmerson (cello)
Gustavo Nunez (bassoon)
Peter Masseurs (trumpet)
Vassily Lobanov (piano)
4.36am
Ibert, Jacques (1890-1962): Trio for violin, cello and harp
Andras Ligeti (violin)
Idilko Radi (cello)
Eva Maros (harp)
4.51am
Liszt, Franz (1811-1886): Csardas macabre
Jeno Jando (piano)
5.00am
Ernesaks, Gustav (1908-1993): Naarisokk (The Christmas Goat)
Estonian National Male Choir
Ants Soots (director)
5.03am
Dowland, John (1563-1626): Prelude; Mrs Winter's Jump, P55
Elena Cicinskaite (lute)
5.04am
Bach, Johann Sebastian (1685-1750): Prelude in C minor, BWV999 (orig for lute)
Christophe Bossert (organ)
5.06am
Bach, Johann Sebastian (1685-1750): Komm, Jesu, komm!, BWV229
Danish National Radio Choir
Stefan Parkman (conductor)
5.16am
Schnittke, Alfred (1934-1998): Suite in the Olden Style (arr. Shafran for cello and piano)
Daniil Shafran (cello)
Anton Osetrov (piano)
5.30am
Daniel-Lesur, Jean Yves (1908-2002): Suite medievale for flute, harp and string trio
Arpea Ensemble
5.44am
Fiocco, Joseph Hector (1703-1741): Suite in G
Geert Bierling (organ)
5.53am
Berlioz, Hector (1803-1869): Overture (Les Franc-juges, Op 3)
Bergen Philharmonic Orchestra
John Nelson (conductor)
6.06am
Ruppe, Christian Friedrich (1753-1826): Christmas Cantata
Francine van der Heyden (soprano)
Karin van der Poel (mezzo-soprano)
Otto Bouwknegt (tenor)
Mitchell Sandler (bass)
Ensemble Bouzignac
Musica Ad Rhenum
Jed Wentz (conductor)
6.37am
Haydn, Joseph (1732-1809): Symphony No 43 in E flat (Mercury)
Hungarian Radio Symphony Orchestra
Bálázs Kocsar (conductor).
Last on