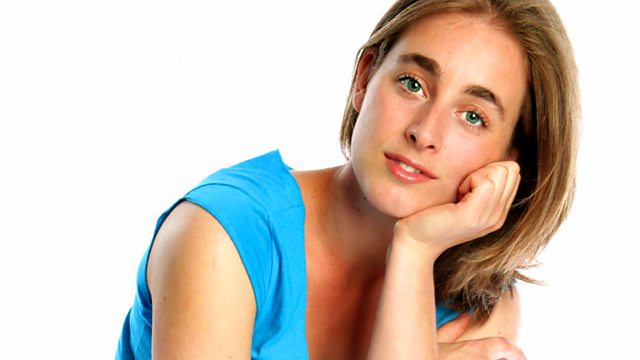 Sara Mohr-Pietsch
Sara Mohr-Pietsch presents.
07:03
C.P.E. Bach: Symphonie in G major, Wq.173
Akademie fur Alte Musik Berlin
HMG 501711 T13-15
07:11
Monteverdi: Ohime, dove il mio ben, dove il mio core (duet)
Emma Kirkby and Evelyn Tubbs (sopranos)
Christopher Wilson (chitarrone)
REGIS RRC1060 T5
07:16
Puccini: Scherzo
Orchestra Sinfonica di Milano Giuseppe Verdi
Riccardo Chailly (conductor)
DECCA 475 320-2 T2
07:21
Mendelssohn: Prelude and Fugue in C minor
Marie Claire Alain (organ)
ERATO 0630 15343-2 CD3 T2-3
07:31
Trad, arr. Grace Rossiter: The Angel Gabriel
BBC Singers
David Hill (director)
BBC Recording
07:34
Chopin: Barcarolle in F-sharp major, Op.60
Ingrid Fliter (piano)
EMI 5099951953256 T8
07:44
Haydn: Holde Gattin, dir zur Seite (The Creation)
Christiane Oelze (soprano)
Peter Lika (bass)
Chamber Orchestra of Europe
Roger Norrington (director)
PROFIL 2CD PH07074 CD2 T4
07:52
Dvorak: Menuet - Tempo di valse (Serenade in E, Op.22)
Academy of St. Martin-in-the-Fields
Neville Marriner (conductor)
PHILIPS 400 020-2 T2
08:03
Bach: 'Allegro' (Brandenburg Concerto No.3 in G major, BWV.1048)
The English Concert
Trevor Pinnock (director)
ARCHIV 4105002 T10
09:18
Stravinsky: Tango
Kathryn Stott (piano)
CHAN 10493 T22
08:08
Haydn: Divertimento No.1 in F major, Hob.2:15
London Wind Soloists
TESTAMENT SBT 1346 T1-5
08:21
Cantaloube: Trois bourrees
Dawn Upshaw (soprano)
Orchestre de l'Opera National de Lyon
Kent Nagano (conductor)
ERATO 0630 17577-2 T2-6
08:31
Holst arr. Stephen Roberts: Jupiter (The Planets)
Black Dyke Band
Nicholas Childs (director)
NAXOS 8.570726 T9
08:39
Cazzati/Starace/Pluhar: Ciaccona
L'Arpeggiata
Christina Pluhar (director)
ALPHA 512 T3
08:44
Mozart: Fantasia in C minor, KV.475
Mitsuko Uchida (piano)
PHILIPS 412 617-2 T1
08:57
Boccherini transcr. Berio: Quattro versioni originali della 'Ritirata notturna di Madrid'
Orchestra Sinfonica di Milanogiuseppe Verdi
Riccardo Chailly (conductor)
DECCA 476 2830 T3
09:04
Trad, Christian Forshaw: Coventry Carol
Christian Forshaw and Sanctuary Ensemble
IntegraRecords
ING1003 T2
09:09
Britten: Young Apollo, Op.16
Steven Osborne (piano)
BBC Scottish Symphony Orchestra
Ilan Volkov (conductor)
HYPERION CDA 67625 T6
09:18
Purcell: Dido's Lament and chorus
Sarah Connolly (soprano)
Choir and Orchestra of the Age of Enlightenment
Steven Devine and Elizabeth Kenny (directors)
CHANDOS CHAN 0757 T30-31
09:29
Leopold Mozart: Symphony in C major, C1
London Mozart Players
Matthias Bamert (director)
CHANDOS CHAN 10496 T1-4
09:42
Strauss: Introduction, Theme and Variations in E-flat major
Barry Tuckwell (horn)
Vladimir Ashkenazy (piano)
DECCA 476 2699 T7
09:49
Django Reinhardt: Confessin' (That I love You)
Django Reinhardt and his orchestra
UNIVERSAL 835 418-2 CD2 T17
09:41
Handel: I know that my Redeemer liveth (Messiah)
Lynne Dawson (soprano)
Choer des Musiciens du Louvre
Les Musiciens du Louvre
Marc Minkowski (director)
ARCHIV 471 343-2 CD2 T16.
Last on