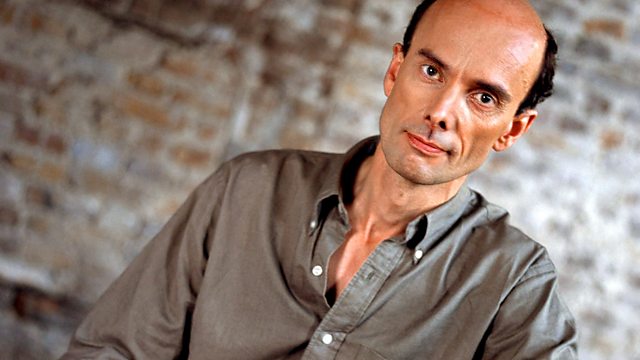 Martin Handley
Martin Handley presents.
07:04
Sibelius: Finlandia op 26
Berlin Philharmonic
Herbert von Karajan, conductor
DG 427808-2 T. 6
07:14
Buxtehude: Quemadmodum desiderat cervus, BuxWV92
Hans Jorg Mammel, tenor
La Fenice
Jean Tubery, director
Alpha 113 T.3
07:20
Warlock: Serenade for Strings
Academy of St Martin-in-the-Fields
Neville Marriner, conductor
DECCA 466 665-2 T. 13
07:29
Rossiter: The Angel Gabriel
BBC Singers
David Hill, condcuctor
BBC Recording
07:33
Gershwin: I Got Rhythm Variations
Goldstone and Clemmow, pianos
DIVINE ART DDA25057 Tr 11
07:43
Stradella: Sonata a otto Viole con una Tromba
Crispian Steele-Perkins, trumpet
The Parley of Instruments
HELIOS CDH55192 Tr 1-4
07:50
Wolf-Ferrari: Intermezzo, Act 3: I gioielli della Madonna
Berlin Philharmonic
Herbert von Karajan, conductor
DG 4777163 Tr 11
07:55
Fernandez: Alma redemptoris mater
The Choir of Westminster Cathedral
James O'Donnell, director
HELIOS CDH55229 Tr 17
08:03
Bach: Courante from the Suite for 'cello No.1 in G major, BWV 1007
Steven Isserlis, cello
HYPERION CDA67541 CD 1 T.3
08:07
Puccini: Senza mamma from Suor Angelica
Nina Rautio, soprano
Orchestra of the Royal Opera House
Sir Edward Downes, conductor
CONIFER 75605550132 T.14
08:13
Mozart: Horn Concerto No 1 in D major, K412
David Pyatt, horn
Academy of St Martin in the Fields
Sir Neville Marriner, conductor
WARNER 256469719-9 T.1-2
08:22
Mozart: Sull'Aria from The Marriage of Figaro
Heather Harper, soprano
Judith Blegen, soprano
English Chamber Orchestra
Daniel Barenboim, conductor
EMI 3878942 CD 43 Tr 10
08:26
Schubert: 3 Klavierstucke: No 3 in C major
Mitsuko Uchida, piano
PHILIPS 4756282 CD 7 T.7
08:32
Albeniz: Triana from Iberia
The Hollywood Bowl Symphony Orchestra
Felix Slatkin, conductor
EMI CDM7637382 T.2
08:38
Telemann: In dulci Jubilo
Collegium Musicum 90
Simon Standage, director
CHACONNE 0754X T.11-17
08:52
Faure: Andante op 75
Pierre Amoyal, violin
Pascal Roge, piano
DECCA 436866-2 T.9
08:57
Purcell: A Fairies Dance
Le Concert des Nations
Jordi Savall, director
ALIA VOX AV9861B CD 2 T.9
09:03
Borodin: Finale from Petite Suite
Gothenburg Symphony Orchestra
Neeme Jarvi, conductor
DG 4357572 CD 2 T.13
09:10
Trad. Finnish arr. Hakala: Tallarin polskat
Petri Hakala, mandolin, mandola, mandocello
FMIC ARTICCD2007 T.6
09:15
Gigout: Grand Choeur Dialogue
Colin Walsh, organ
PRIORY PRCD281 Tr 1
09:21
Rossini: Overture - Matilde di Shabran
Orchestra Filarmonica Della Scala
Riccardo Chailly, conductor
DECCA 448218-2 T8
09:31
Puccini: E Lucevan Le Stelle from Tosca
Placido Domingo, tenor
New Philharmonic Orchestra
Zubin Mehta, conductor
SONY 88697298152 T.3
0935
Beethoven: Sonata for piano and violin op 12 no 2 in A major
Midori Seiler, violin
Jos van Immerseel, forte-piano
ZIG ZAG ZZT070802 T.1-3
09:52
Howells: Hills of the North
The Choir of Christ Church Cathedral, Dublin
Tristan Russcher, organ
Judy Martin, director
SIGNUM SIGCD151 T.2
09:57
Kodaly: Viennese Musical Clock from Hary Janos Suite
Budapest Festival Orchestra
Ivan Fischer, conductor
PHILIPS 462 824-2 T.12.
Last on