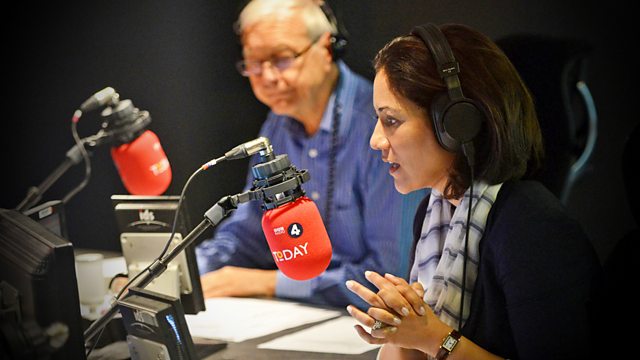 22/12/2008
Presented by John Humphrys and Sarah Montague.
Robert Peston says that Sir John Gieve of the Bank of England did not believe the economic crisis would be so severe.
South African journalist Heidi Holland discusses the significance of Robert Mugabe's statements.
Ian Kelcey of the National Law Society says the proposals for legal aid are unfair.
Sarah Mukherjee travels to the site of a proposed reservoir in Sussex to gauge public opinion.
Duncan Bartlett reports from Tokyo on Japanese car maker Toyota's expected drop in profits.
Dr Frank Gunn-Moore explains the difficulties in diagnosing Alzheimer's.
Aleem Maqbool is repeating on foot the journey from Nazareth to Bethlehem made by Mary and Joseph. He has reached Al Bireh, north of Ramallah, and pauses to give us an update on his trip.
Thought for the day with the John Bell of the Iona Community.
Africa minister Lord Malloch Brown discusses the British government's position on Robert Mugabe.
A row has erupted between the senior police officer investigating Home Office leaks and the Conservatives. Sir Chris Fox and former Home Secretary and conservative MP David Davis discuss the furore.
Nick Ravenscroft travels to the Peak District to discover the set of local Christmas carols that stretch back for generations and owe their existence to the village pub.
Author Martin Amis considers the impact of the financial crisis on the state of capitalism.
26-66, the final novel by the late Roberto Bolano, has been translated into English five years after his death. Philip Hensher and Natasha Wimmer pay tribute.
Dr Thomas Stutterford explains what clinics can do to improve Alzheimer's diagnoses and treatment.
Economists Lord Skidelsky and Julian Le Grand discuss the economic downturn.
Last on