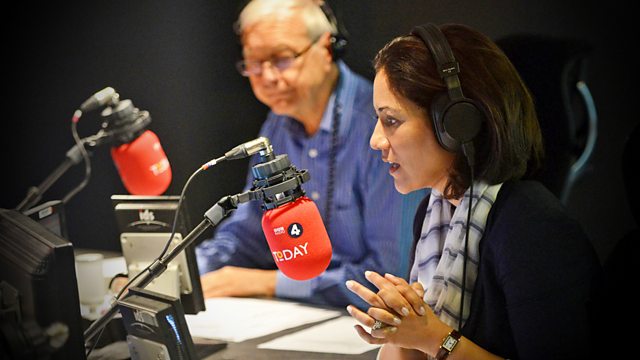 26/12/2008
Presented by James Naughtie and Sarah Montague.
Israel's Prime Minister Ehud Olmert says he will not hesitate to use more force against Gaza if rocket attacks on Israel do not stop. Mark Regev, the Israeli government spokesman, explains.
Caroline Wyatt has been spending Christmas with British troops in Basra.
Some stores opened their doors in the early hours, to try to make the most of the post-Christmas sales. John Thorne reports from the Trafford Centre in Manchester and Michelle Robinson describes the scene on Oxford Street in London.
Head of NICE, the National Institute for Health and Clinical Excellence, Sir Mike Rawlins, says that many other countries see the body as a success story.
The government says that it has reached its target of removing 5,000 foreign national prisoners from the UK in 2008. Shadow Justice Secretary Nick Herbert and Home Office minister Lord West discuss the news.
Tributes have been pouring in to Nobel Prize-winning playwright Harold Pinter, following his death from cancer.
Tom Hodgkinson, from the Idler Magazine, explains the art of idling.
Thought for the day with Canon Dr Alan Billings.
British soldiers will be leaving Iraq by the end of July. As they leave, how will the withdrawal affect Britain's relationship with Iraq? Christopher Prentice, Britain's ambassador to Iraq, discusses the UK's standing with the Baghdad government.
Remembering the singer Eartha Kitt who died on Christmas Day aged 81.
The National Trust is warning that 180 miles of its coastline in south-west England is disappearing because of coastal erosion. One of the worst affected areas is Studland beach in Dorset. Alison Harper reports.
The BBC's Home Affairs Editor, Mark Easton, Political Editor Nick Robinson, and Business Editor Robert Peston discuss how the world has changed in the past year - and try to guess what lies ahead.
The Guardian's theatre critic Michael Billington remembers Nobel Prize-winning playwright Harold Pinter.
Joe Bageant delivers a redneck message to president elect, Barack Obama.
Will job losses in the financial sector be a good thing for the worlds of science and engineering? Hugh Pym, reports.
Steve Adams from the Broken Family Band provides a musical look back to 2008.
Last on