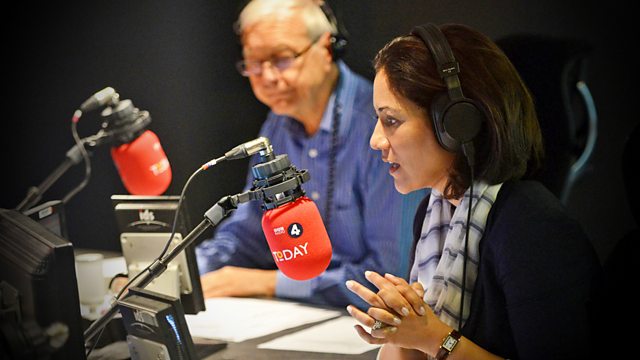 23/12/2008
Presented by John Humphrys and Sarah Montague.
Adam Brimelow explains how Sir Richard Branson wants to tackle MRSA.
Chris Hogg meets a couple, Gao Hong and Yang Xiaoling, who decided to pack in their lucrative careers in advertising and move to a quiet house in the Chinese countryside.
Prof Beatrice De Gelder explains how a man left totally blind by brain damage has astounded scientists by flawlessly navigating an obstacle course without the help of a cane.
There is now a new version of the Bible that uses Manga illustrations. Robert Piggott finds out what teachers and children think of it.
Caroline Wyatt reports on how life has changed in Basra.
Aleem Maqbool continues his journey through the Holy Land.
Thought for the day with the Right Rev James Jones.
Russia wants to set up the equivalent of OPEC for gas-producing countries. So how would it affect prices and supply to Britain? Niall Trimble explains.
US ambassador Robert Tuttle evaluates the presidency of George W. Bush.
Joanna Bogle, of the Catholic Times, and Cristina Odone,who used to edit the Catholic Herald, discuss the Pope's address.
Mark Enright discusses Sir Richard Branson's view that the NHS's track record on hospital infections is 'horrific' and that if it were an airline it would have been grounded years ago.
How does Britain's most famous atheist, Richard Dawkins, celebrate Christmas?
Steve Rosenberg reports on an energy saving system which lets you switch street lights on with your mobile phone
Richard Reeves, of the think tank Demos, and MP David Willetts discuss whether old and young are destined to be at odds.
Last on