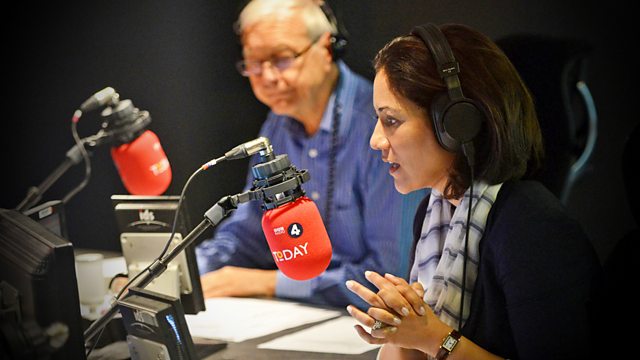 20/12/2008
Presented by John Humphrys and Evan Davis.
Joe Lynam explains what could improve the image of the banks.
The Australian Navy is trying to reach a yacht taking part in the Vendee Globe Around-The-World race in which the sailor has been badly hurt. Nick Bryant reports.
Simon Gathercole discusses the scepticism of the British towards the Bible.
Kevin Connolly reports on the legal measures that George W. Bush is making without the approval of Congress.
MP Major Eric Joyce and Colonel Tim Collins discuss if UK troops will be sent to Afghanistan once they have withdrawn from Iraq.
Dr Manoj Ramachandran says sneezing may be a sign of sexual arousal.
Mihir Bose considers if a bid from England to host the 2018 World Cup could be successful.
Thought for the day with the Rev Dr Giles Fraser.
Solicitor Julian Weinberg and Paul Roffey, of RWA Child Protection Services, discuss if sex offenders should remain on the sex offenders register.
John Kay discusses what needs to be done to restore the public's confidence in the banks.
Michael Stockdale, of the Royal Mail, says additional measures have been made to cope with the run-up to Christmas.
Justin Webb considers the US public's reaction to the announcement of a multi-billion dollar aid package for US carmakers.
Major General Andy Salmon and Iraqi expert Dr Toby Dodge discuss the announcement that UK troops will leave Iraq by June 2009.
David Whitehouse discusses the 40th anniversary of the launch of the Apollo 8 mission.
Andrew Baker discusses how the Madoff scandal will affect the investment industry.
William Cash of Spear's Wealth Management Survey, and Jonathan Bartley of think tank Ekklesia, discuss the notion of the Church guiding financial decisions.
Last on