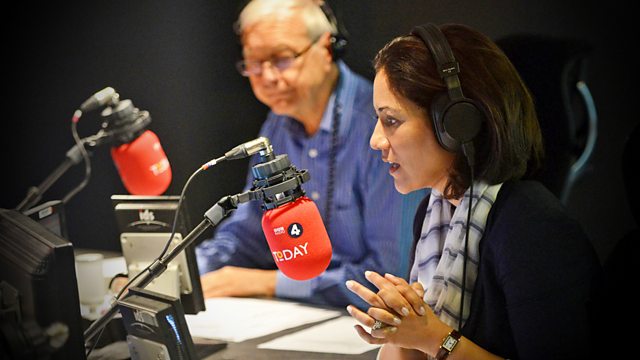 18/12/2008
Presented by John Humphrys and Sarah Montague.
Rory Maclean reports on why plans to make the police more accountable have been dropped.
Ben Stewart, a Greenpeace member who protested at Kingsnorth power station, and Ann Widdecombe, MP for a constituency near Kingsnorth, discuss if 'lawful excuse' should be a defence.
Shadow Health Secretary Andrew Lansley says there has been a fundamental mistake in the way NHS dentistry is organised.
General Patrick Cordingley discusses the legacy that will be left in Basra.
Tom Feilden investigates the pros and cons of animal testing.
Prof Bennett Zon, head of Music at Durham University, says the Christmas carol O Come All Ye Faithful is actually a birth ode to Bonnie Prince Charlie.
Thought for the day with The Right Rev Lord Harries of Pentregarth.
Health Secretary Alan Johnson and dentist Dr Anthony Halperin discuss how NHS dentists should operate.
The Archbishop of Canterbury Rowan Williams has issued his Christmas message in which he gives his view on the economy, Iraq and the possibility of the disestablishment of the Church of England.
Nicola Stanbridge visits a heavy metal club to discover if the advice for headbangers to wear a neck brace will catch on.
Mike Thompson visits a village in the Central African Republic where bandits massacred nearly every man and boy.
Caroline Wyatt reports on the arrest of 23 Iraqi officials accused of being members of the banned Baathist party Al Awda.
Dr Simon Festing, of the Research Defence Society, says testing on animals is a small but vital part of medical research. Michelle Thew, of the British Union for the Abolition of Vivisection, says it is a disgrace.
General Sir Mike Jackson and journalist Patrick Cockburn discuss the war in Iraq.
Last on