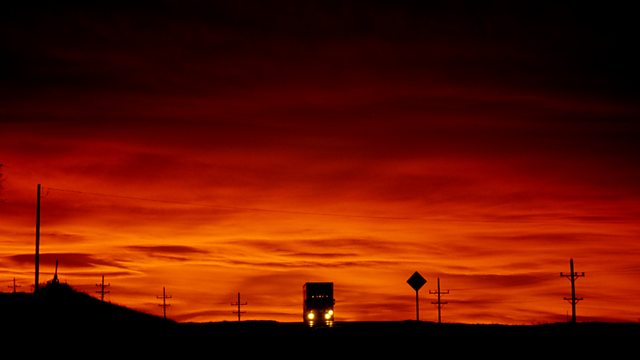 11/12/2008
With Jonathan Swain.
1.01am
Enescu, George (1881-1955): Concert Overture in A, Op 32 (sur des themes dans le caractere populaire roumain)
1.10am
Prokofiev, Sergei (1891-1953): Piano Concerto No 3 in C, Op 26
1.38am
Brahms, Johannes (1833-1897): Symphony No 2 in D, Op 73
Annerose Schmidt (piano)
Dresden Philharmonic Orchestra
Herbert Kegel (conductor)
2.15am
Geijer, Erik Gustaf (1783-1847): Piano Sonata in F (four hands)
Stefan Bojsten, Anders Kilstrom (piano)
2.36am
Beethoven, Ludwig van (1770-1827): Wellingtons Sieg/Die Schlacht bei Vittoria, Op 91 (Battle Symphony)
Octophoros
Paul Dombrecht (conductor)
2.52am
Blow, John (1649-1708): Venus and Adonis - a Masque for the Entertainment of the King
Venus ...... Evelyn Tubb (soprano)
Venus ...... Emma Kirkby (soprano)
Adonis ...... Richard Wistriech (bass)
London Oratory Junior Choir
Choir and Consort of Musicke
Anthony Rooley (conductor)
4.00am
Visee, Robert de (c.1655-c.1723): Suite in A
Yasunori Imamura (theorbo)
4.14am
Vivaldi, Antonio (1678-1741): Concerto in F minor, RV 297 (Winter - The Four Seasons)
Concerto Copenhagen
Gottfried von der Goltz (violin/conductor)
4.23am
Bach, Wilhelm Friedemann (1710-1784): Fugue in C minor; Fugue in F
Stef Tuinstra (organ)
4.34am
Kelemen, Milko (b.1924): Divertimento for strings
Zagreb Radio Symphony Orchestra
Igor Gjadrov (conductor)
4.43am
Berwald, Franz (1796-1868): Fantasia for piano on two Swedish Folksongs
Lucia Negro (piano)
4.53am
Rosenmuller, Johann (c.1619-1684): Sinfonia a 4
Tafelmusik Baroque Soloists
5.00am
Debussy, Claude (1862-1918) orch. Brewaeys: La cathedrale engloutie (Preludes - Book 1)
Royal Flemish Philharmonic
Daniele Callegari (conductor)
5.06am
Ravel, Maurice (1875-1937): Introduction and allegro for harp, flute, clarinet and string quartet
Tinka Muradori (flute)
Josip Nochta (clarinet)
Paula Ursic (harp)
Zagreb String Quartet
5.18am
Norman, Ludvig (1831-1885): Rosa rorans bonitatem, Op 45
Eva Wedin (mezzo-soprano)
Swedish Radio Choir
Swedish Radio Symphony Orchestra
Gustaf Sjokvist (conductor)
5.26am
Bach, Carl Philipp Emanuel (1714-1788): Sonata in E minor, Wq 59 No 1
Andreas Staier (pianoforte)
5.35am
Crusell, Bernhard Henrik (1775-1838): Introduction et Air Suedois (Introduction and Variations on a Swedish Drinking Song), Op 12
Anne-Marja Korimaa (clarinet)
Finnish Radio Symphony Orchestra
Osmo Vanska (conductor)
5.46am
Mozart, Wolfgang Amadeus (1756-1791): Finch'han dal vino (Don Giovanni)
Russell Braun (baritone)
Canadian Opera Company Orchestra
Richard Bradshaw (conductor)
5.48am
Mozart: La ci darem la mano, la mi dirai di si (Don Giovanni)
Isabel Bayrakdarian (soprano)
Russell Braun (baritone)
Canadian Opera Company Orchestra
Richard Bradshaw (conductor)
5.52am
Mozart: Ah, fuggi il traditor (Don Giovanni)
Isabel Bayrakdarian (soprano)
Canadian Opera Company Orchestra
Richard Bradshaw (conductor)
5.53am
Merikanto, Oscar (1868-1924): Improvisation, Op 76 No 3
Eero Heinonen (piano)
6.00am
Wagner, Richard (1813-1883): Overture and Venusberg music - concert version (Tannhauser)
Orchestre du Conservatoire de Musique du Quebec
Franz Paul Decker (conductor)
6.22am
Gabrieli, Andrea (1532/3-1585): Aria della battaglia a 8
Theatrum Instrumentorum
Stefano Innocenti (conductor)
6.33am
Mozetich, Marjan (b.1948): The Passion of Angels - Concerto for two harps and orchestra
Nora Bumanis, Julia Shaw (harps)
Marc Destrube (violin)
Diane Berthelsdorf (cello)
Roger Cole (oboe)
Christopher Millard (bassoon)
CBC Vancouver Orchestra
Mario Bernardi (conductor)
6.54am
Schubert, Franz (1797-1828): Psalm 23 (Gott ist mein Hirt) for high voices and piano, D706
Stephen Betteridge (piano)
BBC Singers
Stephen Cleobury (conductor).
Last on