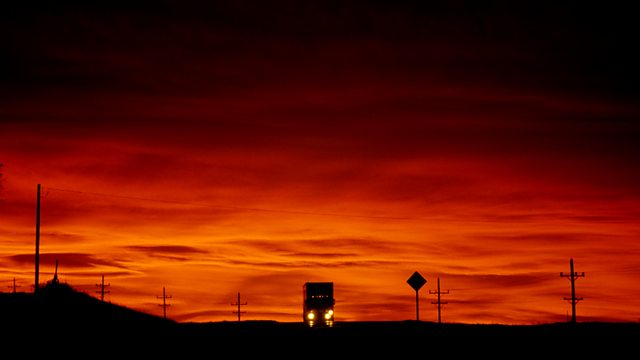 08/12/2008
With Jonathan Swain.
1.01am
Szymanowski, Karol (1882-1937): Penthesilea for soprano and orchestra, Op 18
1.08am
Roussel, Albert (1869-1937): Bacchus et Ariane Suites Nos 1 and 2
1.43am
Maciejewski, Roman (1910-1998): Kurpian songs for chorus
1.54am
Szymanowski: Agave, Op 39, arr. Malcolm Hill; Demeter, Op 37b; Agave, Op 39, arr. Piotr Moss
Izabella Klosinska (soprano)
Jadwiga Rappe (contralto)
Polish Radio Chorus
Wlodzimierz Siedlik (director)
Polish Radio Symphony Orchestra
Lukasz Borowicz (conductor)
2.19am
Stenhammar, Wilhelm (1871-1927): String Quartet No 4 in A minor, Op 25
Yggdrasil Quartet
2.54am
Roman, Johan Helmich (1694-1758): Svenska messan (The Swedish Mass)
Maria Keohane (soprano)
Marianne Beate Kielland (contralto)
Jakob Block Jespersen (bass)
Ars Nova Copenhagen (choir)
Concerto Copenhagen
Lars Ulrik Mortensen (conductor)
3.39am
Martinu, Bohuslav (1890-1959): Sonatina
Jozef Luptacik (clarinet)
Pavol Kovac (piano)
3.51am
Salzedo, Carlos (1885-1961): Chanson dans la nuit
Tournier, Marcel (1879-1951): Etude de concert (Au matin)
Mojca Zlobko (harp)
3.59am
Auber, Daniel (1782-1871): Guaracha; Bolero (La muette de Portici)
Slovak Radio Symphony Orchestra
Viktor Malek, Ondrej Lenard (conductors)
4.11am
Leoncavallo, Ruggero (1857-1919): I Pagliacci (excerpt)
Allan Monk (baritone)
Calgary Philharmonic Orchestra
Mario Bernardi (conductor)
4.16am
Rossini, Gioachino (1792-1868): Quartet No 1 in F for wind
Canberra Wind Soloists
4.28am
Dukas, Paul (1865-1935): Villanelle
Esa Tukia (horn)
Finnish Radio Symphony Orchestra
Michael Adelson (conductor)
4.35am
Forqueray, Antoine (1672-1745): La regente (Pieces de viole)
Pierre Pitzl, Mary Jean Bolli (violas da gamba)
Luciano Contini (archlute)
Augusta Campagne (harpsichord)
4.42am
Weiss, Silvius Leopold (1686-1750): Prelude, Toccata and Allegro in G
Hopkinson Smith (baroque lute)
4.52am
Janequin, Clement (c.1485-1558): Escoutez tous gentilz (Chansons de maistre Clement Janequin)
The King's Singers
5.00am
Corelli, Arcangelo (1653-1713): Trio Sonata in D, Op 1 No 12
London Baroque
5.06am
Kreisler, Fritz (1875-1962): Variations on a Theme of Corelli in the Style of Tartini
Jela Spitkova (violin)
Tatiana Franova (piano)
5.10am
Fibich, Zdenek (1850-1900): Poem
Jela Spitkova (violin)
Tatiana Franova (piano)
5.13am
Dvorak, Antonin (1841-1904): V prirode (In Nature's Realm), Op 63
Danish National Radio Choir
Stefan Parkman (conductor)
5.26am
Kunzen, Friedrich (1761-1817): Overture (The Hussites)
Danish Radio Concert Orchestra
Peter Marschik (conductor)
5.34am
Mozart, Wolfgang Amadeus (1756-1791): Fra gli amplessi (Cosi fan tutte)
Fiordiligi ...... Isabel Bayrakdarian (soprano)
Ferrando ...... Michael Schade (tenor)
Canadian Opera Company Orchestra
Richard Bradshaw (conductor)
5.41am
Anon (4th or 5th century Armenian), arr. Petros Shoujounian: Amen, Hayr Soorp (Doxology)
Isabel Bayrakdarian (soprano)
Chamber Orchestra
Raffi Armenian (conductor)
5.47am
Mendelssohn, Fanny (1805-1847): Larghetto; Presto (Lieder ohne Worte, Op 8 Nos 3, 4)
Sylviane Deferne (piano)
5.53am
Dessane, Antoine (1826-1873): Haec dies
Tudor Singers of Montreal
Patrick Wedd (conductor)
Scott Bradford (organ)
6.00am
Handel, George Frideric (1685-1759): Flammende Rose, Zierde der Erden, HWV 210
Helene Plouffe (violin)
Louise Pellerin (oboe)
Dom Andre Laberge (organ)
6.06am
Rożycki, Ludomir (1884-1953): Cello Sonata in A minor, Op 10
Tomasz Strahl (cello)
Edward Wolanin (piano)
6.25am
Beethoven, Ludwig van (1770-1827): Five Scottish and Irish songs
Stephen Powell (tenor)
Lorraine Reinhardt (soprano)
Linda Lee Thomas (piano)
Gwen Thompson (violin)
Eugene Osadchy (cello)
Vancouver Chamber Choir
Jon Washburn (conductor)
6.40am
Strauss, Richard (1864-1949): Macbeth, Op 23
BBC Philharmonic
Vassily Sinaisky (conductor).
Last on