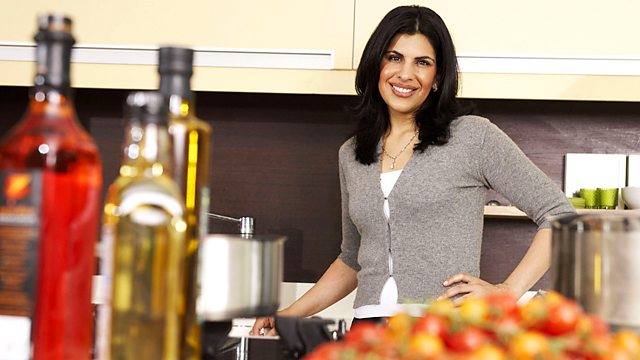 Following on from the success of Indian Food Made Easy, this second series takes Anjum on a journey to show how different regional flavours of the Indian subcontinent can be found up and down the country. From Bengali cuisine in London to the spicy flavours of the Punjab found in Glasgow.
In this episode we head to London to meet James Moody, who loves having dinner parties and is a bit of a foodie, but would never cook Indian food as he finds it far too complicated. With Brick Lane on his doorstep, it's an opportunity for Anjum to show him how to cook up a Bengali feast.
First they visit the restaurant of top Bengali chef Udit Sarkhel, and the chance for a hands-on experience making keema stuffed mashed potatoes. Then in Anjum's kitchen he starts off learning how to make a fabulous butternut squash dish with chickpeas.
A quick trip to Brick Lane and some fantastic fish dishes gets him into groove of fish curry, which the Bengalis love. Back in the kitchen, it's time for James to learn how to make his own fish curry, as well as a fabulous dish of prawns, coconut and mustard.
With his friends waiting for their meal in the garden, James struggles to make good that which he has learnt, but what will his friends think?
Last on
Credits
| Role | Contributor |
| --- | --- |
| Participant | Anjum Anand |