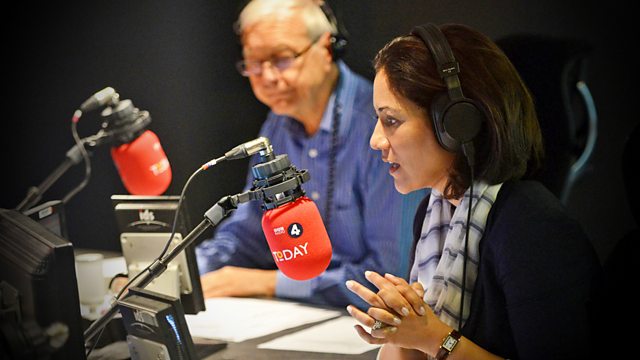 08/12/2008
Presented by James Naughtie and Evan Davis.
Environment analyst Roger Harrabin discusses whether a new agreement can be reached on climate change.
Lily Kember, of climate action group Plane Stupid, says that climate change is a global catastrophe waiting to happen.
James Appathurai discusses claims that the Taleban's presence in Afghanistan has grown.
Europe editor Mark Mardell considers how Germany is dealing with the economic downturn.
Chief Supt Ian Gruneberger, divisional commander at Stansted airport, says the protestors may face criminal prosecution.
Mike Thomson reports from the town of Bossangoa, in the Central African Republic, where alleged war crimes and human rights violations occurred.
Dr Paul Morris says dogs are much more socially complicated than was ever expected.
Thought for the day with John Bell of the Iona Community.
Ofsted inspector Sir Jim Rose says teaching children about emotional well-being and social skills should be compulsory.
Commercial director of Stansted airport Nick Bartham says the runway is now open following a protest from climate change group Plane Stupid.
Former US President Jimmy Carter discusses if Robert Mugabe can lead Zimbabwe out of its current humanitarian crisis.
Chris Difford, formerly of the band Squeeze, and music critic Neil McCormick discuss the recipe for a Christmas number one.
Ian Pannell and Sir Sherard Cowper-Coles, British ambassador in Afghanistan, discuss reports that the presence of the Taleban is growing in Afghanistan.
Desmond Browne QC says the potential injustice for unrepresented clients is almost infinite.
Sarah Robertson, of the Internet Watch foundation, and David Gerard, of Wikipedia, discuss if censorship of the internet should be allowed.
Last on