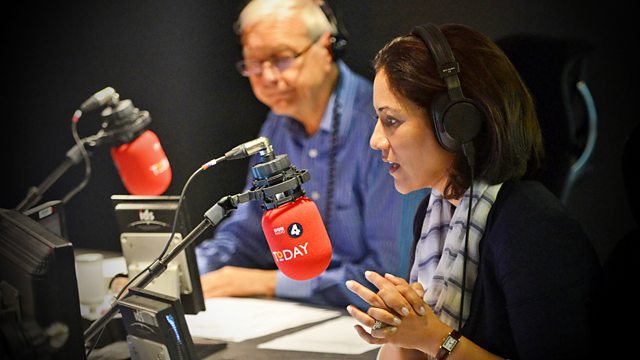 11/12/2008
Presented by John Humphrys and Sarah Montague.
Mark Easton considers the Tackling Knives Action Plan.
Postmen are being told to walk at a set speed of 4mph in order to deliver more mail, the Communication Workers Union (CWU) claims. Gavin Lee discusses.
Sarah Mukherjee reports on an inquiry into the security of UK food supplies.
Rear Admiral Scott Lidbetter and Brigadier Alan Mallinson discuss the delay of the entry into service of two new aircraft carriers so money can be spent instead in Afghanistan.
Angus Stickler visits Edmonton to discover the extent of gang violence.
Cristina Odone, whose brother Lorenzo lived for many years with a fatal disease, as documented in the film Lorenzo's Oil, discusses the recent cases of assisted suicide.
Thought for the day with The Right Reverend Lord Harries.
Robert Peston discusses Britain's switch from financial prudence to heavy borrowing.
Politician Brian Paddick and actor Femi Oyeniran discuss the effectiveness of stop and search in reducing knife crime.
Economist Steven Bell discusses the pros and cons of having a weak pound.
Rebecca Jones talks to Sir Peter Maxwell Davies about the dedication of his new work to Sir Paul McCartney.
Andrew Hosken reports from Athens on the mood there following the recent unrest.
Bob Gibson of the CWU discusses claims that delivery staff are being told to walk at a set speed of 4mph in order to deliver more mail.
Prof Don Braben explains the new prize being launched by UCL in the hope of uncovering the next Einstein.
Columnist Jan Moir and Roger Royle of the Entertainment Artistes' Benevolent Fund discuss whether the Royal Variety Show is still relevant.
Camilla Batmanghelidjh, of the charity Kids' Company, discusses the use of the term 'gangs'.
Last on