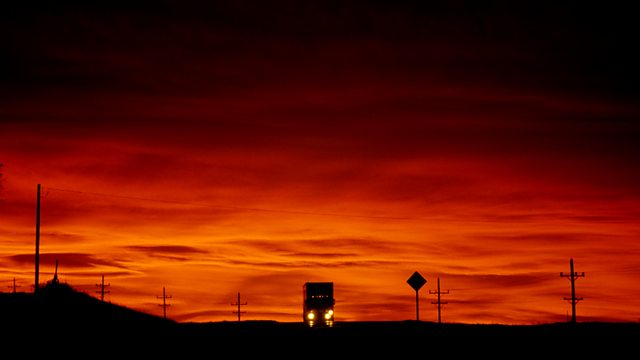 04/12/2008
With Susan Sharpe.
1.01am
Wagner, Richard (1813-1883): Prelude and Liebestod (Tristan und Isolde)
Romanian National Radio Orchestra
Emil Chakarov (conductor)
1.20am
Schumann, Robert (1810-1856): Piano Concerto in A minor, Op 54
Valentin Gheorghiu (piano)
Romanian National Radio Orchestra
Emil Chakarov (conductor)
1.52am
Strauss, Richard (1864-1949): Also sprach Zarathustra, Op 30
Romanian National Radio Orchestra
Emil Chakarov (conductor)
2.26am
Enescu, George (1881-1955): Impressions d'enfance, Op 28
Sherban Lupu (violin)
Valentin Gheorghiu (piano)
2.47am
Liszt, Franz (1811-1886): Hymne de l'enfant a son reveil for female chorus, harmonium and harp, S19
Eva Andor (soprano)
Hedi Lubik (harp)
Gabor Lehotka (organ)
Gyor Girls Choir
Miklos Szabo (conductor)
2.58am
Fusz, Janos (1777-1819): Quartet for flute, viola, cello and guitar
Laima Sulskute (flute)
Romualdas Romoslauskas (viola)
Ramute Kalnenaite (cello)
Algimantas Pauliukevicius (guitar)
3.24am
Elsner, Jozef Antoni Franciszek (1769-1854): Overture (Sultan Vampum)
Polish Radio Symphony Orchestra
Andrzej Straszynski (conductor)
3.28am
Gorczycki, Grzegorz Gerwazy (c.1665-1734): Missa paschalis
Il Canto
3.43am
Stravinsky, Igor (1882-1971): Mass for chorus and wind instruments
San Francisco Symphony Chorus and Orchestra
Michael Tilson Thomas (conductor)
4.02am
Rachmaninov, Sergei (1873-1943): Two pieces for cello and piano, Op 2
Monika Leskovar (cello)
Ivana Svarc-Grenda (piano)
4.10am
Copland, Aaron (1900-1990): Danzon cubano
Aglika Genova, Liuben Dimitrov (pianos)
4.17am
Debussy, Claude (1862-1918): Danse sacree et danse profane for harp and strings
Eva Maros (harp)
4.28am
Milhaud, Darius (1892-1974): Three Rag-Caprices, Op 78
CBC Vancouver Orchestra
Daniel Swift (conductor)
4.35am
Morton, Jelly Roll (1890-1941): Frog-I-More Rag
Lamb, Joseph Francis (1887-1960): Ragtime Nightingale
Donna Coleman (piano)
4.44am
Doppler, Franz (1821-1883): L'oiseau des bois - idyll for flute and four horns, Op 21
Janos Balint (flute)
Jeno Kevehazi, Peter Fuzes, Sandor Endrodi, Tibor Maruzsa (horns)
4.50am
Faggioli, Michelangelo (1666-1733): Marte, ammore, guerra e pace (La cilla)
Pino de Vittorio (tenor)
Cappella della Pieta de' Turchini
Antonio Florio (director)
5.00am
Smetana, Bedrich (1824-1884): Overture (The Bartered Bride)
BBC Concert Orchestra
Barry Wordsworth (conductor)
5.07am
Moscheles, Ignaz (1794-1870): La gaite - Rondo brillant in A, Op 85
Tom Beghin (fortepiano)
5.16am
Grothe, Franz (1908-1982): Ganz leise
Jean Stilwell (mezzo-soprano)
Robert Kortgaard (piano)
Marie Berard (violin)
Joseph Macerollo (accordion)
George Kohler (bass)
Andy Morris (percussion)
Peter Tiefenbach (conductor)
5.19am
Gershwin, George (1898-1937): Lullaby for string quartet
New Stenhammar String Quartet
5.29am
Lassus, Orlande de (1532-1594): La nuit froide et sombre
King's Singers
5.31am
Debussy, Claude (1862-1918): Des pas sur la neige (Preludes, Book 1)
Danae O'Callaghan (piano)
5.37am
Mussorgsky, Modest (1839-1881): Prelude and Dance of the Persian Slaves (Khovanshchina)
Sofia Symphony Orchestra
Ivan Marinov (conductor)
5.50am
Attr. Mozart, Wolfgang Amadeus (1756-1791): Adagio/Allegro in E flat for wind octet, K Anh C 17 07
The Festival Winds
6.00am
Brahms, Johannes (1833-1897): Marienlieder, Op 22
Danish National Radio Choir
Stefan Parkman (conductor)
6.18am
Rameau, Jean-Philippe (1683-1764): Suite (Platee/Junon jalouse)
Concerto Copenhagen
Lars Ulrik Mortensen (director)
6.44am
Haydn, Joseph (1732-1809): Concerto in E flat for trumpet and orchestra, H VIIe 1
Geoffrey Payne (trumpet)
Melbourne Symphony Orchestra
Michael Halasz (conductor).
Last on