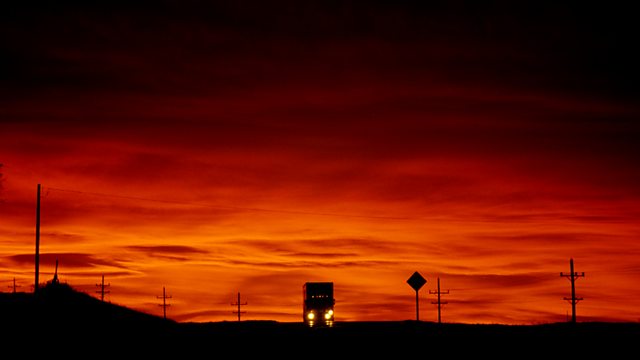 03/12/2008
WIth Susan Sharpe.
1.01am
Anon: Christicolus (1430); Cracovia civitas; Salve sancta parens; Maria en mitissima
1.11am
Radomski, Mikolaj (15th century): Balade; Magnificat
1.22am
Lublina, Jan z (fl.1540): Dances
1.33am
Cato, Diomedes (c.1570-1610): Two Fantasies; Three Songs
1.42am
Jarzebski, Adam (c.1590-1648): I spadeza; Concerto terzo
1.50am
Anon: Polish Dances
Krzysztof Szmyt (countertenor)
Jan Smietana (bass)
Fistulatores et Tubicinatores Varsovensis Ensemble
1.57am
Rossini, Gioachino (1792-1868): L'Italiana in Algeri (libretto: Angelo Anelli)
Mustafa (Bey of Algiers) ...... Wladimiro Ganzarolli
Elvira (his wife) ...... Jeanne Marie Bima
Zulma (Elvira's confidante) ...... Lucia Rizzi
Haly (Captain of the Algiers Corsairs) ...... Allessandro Corbelli
Lindoro (A young Italian, slave of Mustafa) ...... Francisco Araiza
Isabella (Italian woman) ...... Lucia Valentini Terrani
Taddeo (Isabella's companion) ...... Enzo Dara
Georg Fischer (fortepiano)
Male Chorus of the Westdeutscher Rundfunk, Koln
Gottfried Ritter (Chorus master)
Capella Coloniensis
Gabriele Ferro (conductor)
4.26am
Chopin, Fryderyk (1810-1849): Polonaise No 2 in E flat minor, Op 26 No 2
Aldo Ciccolini (piano)
4.32am
Vivaldi, Antonio (1678-1741): Concerto in D minor, RV 129 (Concerto Madrigalesco)
Concerto Copenhagen
Gottfried von der Goltz (violin/conductor)
4.37am
Strauss, Johann II (1825-1899): Egyptischer March, Op 335
Danish Radio Concert Orchestra
Roman Zeilinger (conductor)
4.42am
Boccherini, Luigi (1743-1805): Rondeau, Op 28 No 4
David Varema (cello)
Heiki Matlik (guitar)
4.46am
Fitelberg, Jerzy (1903-1951): Three Mazurkas for orchestra
Polish Radio Symphony Orchestra Katowice
Joel Suben (conductor)
5.00am
Schubert, Franz (1797-1828): Scherzo No 1 in B flat, D593
Halina Radvilaite (piano)
5.06am
Debussy, Claude (1862-1918), orch. Ravel: Danse (Tarantelle styrienne)
Winnipeg Symphony Orchestra
Kazuhiro Koizumi (conductor)
5.12am
Donizetti, Gaetano (1797-1848): Edgar's aria (Lucia di Lammermoor, Act 3)
Denes Gulyas (tenor)
Hungarian State Opera Orchestra
Janos Ferencsik (conductor)
5.19am
Tchaikovsky, Pyotr Il'yich (1840-1893): Capriccio Italien, Op 45
Oslo Philharmonic Orchestra
Andrej Boreyko (conductor)
5.35am
Bach, Johann Sebastian (1865-1750): Toccata, Adagio and Fugue in C, BWV 564
David Sanger (organ)
5.50am
Grieg, Edvard (1843-1907): Two Elegiac Melodies for string orchestra, Op 34
CBC Vancouver Orchestra
Mario Bernardi (conductor)
5.59am
Wieniawski, Henryk (1835-1880): Polonaise No 1 in D, Op 4
Reka Szilvay (violin)
Naoko Ichihashi (piano)
6.06am
Mozart, Wolfgang Amadeus (1756-1791): Horn Concerto No 4 in E flat, K495
James Sommerville (horn)
CBC Vancouver Orchestra
Mario Bernardi (conductor)
6.23am
Beethoven, Ludwig van (1770-1827): 32 Variations in C minor, WoO 80
Irena Kobla (piano)
6.35am
Strauss, Richard (1864-1949): Suite in B flat, Op 4
I Solisti del Vento
Etienne Siebens (conductor).
Last on