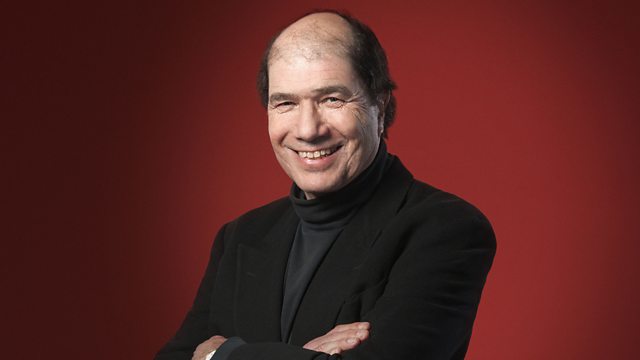 Paul Rhys
Michael Berkeley talks to Welsh actor Paul Rhys, who played Theo van Gogh in Robert Altman's film Vincent and Theo, Ludwig van Beethoven in the BBC TV mini-series, and who is appearing in a series of Spooks. His choices range from a Welsh male voice choir to Bach's St Matthew Passion, taking in works by Beethoven, Purcell, Schubert, Mahler, Puccini, Ravel and David Bowie.
M Berkeley The Wakeful Poet (Music from Chaucer) (pub OUP) 00 25
Beaux-Arts Brass Quintet BBQ BBQ 003 T10
Beethoven String Quartet in A minor, Op 132 (first movement, excerpt)
The Lindsays
Beethoven ASV CD DCA 1118 T1 03 01
Purcell What power art thou (King Arthur, Act 3)
Brian Bannatyne-Scott (The Cold Genius), The English Concert/Trevor Pinnock
King Arthur ARCHIV 435 490-2 CD1 T20 02 52
Kurt Weill That's Him (from One Touch of Venus)
Kurt Weill (vocal and piano)
Tryout LP: DRG MRS 904 S2 B5 03 27
Mahler Abschied (from Das Lied von der Erde (excerpt))
Kathleen Ferrier (contralto), Vienna PO/Bruno Walter
Kathleen Ferrier NAXOS 8.110871 T9 04 49
Puccini O soave fanciulla (duet from the end of Act 1 of La Bohème)
Luciano Pavarotti (Rodolpho), Mirella Freni (Mimi), Berlin PO/Herbert Von Karajan
Puccini: La Bohème DECCA 421 245-2 T4 04 11
David Bowie Life On Mars? (from Hunky Dory)
Hunky Dory EMI 5218990 T4 03 48
Ravel Piano Trio in A minor (1st movement, opening)
Jean-Jaques Kantorow (violin), Philippe Muller (cello), Jaques Rouvier (piano )
Ravel ERATO ECD 71569 T1 03 27
Schubert String Quartet in D minor, D810 (Death and the Maiden) (1st movement, excerpt)
Alban Berg Quartet
Schubert EMI CDC 747333-2 T1 04 41
Traditional Ar hyd y nos (All through the night)
Treorchy Male Voice Choir/John Cynan Jones
The very best of Welsh choirs LP: EMI EMC 3099 S2 B1 02 17
Bach Wir setzen uns mit Tränen nieder (final chorus from the St Matthew Passion)
Munich Bach Choir and Orchestra/Karl Richter
ARCHIV 463 701-2 CD3 T22 02 31.
Last on
Archive Unlocked: Two Decades of Private Passions