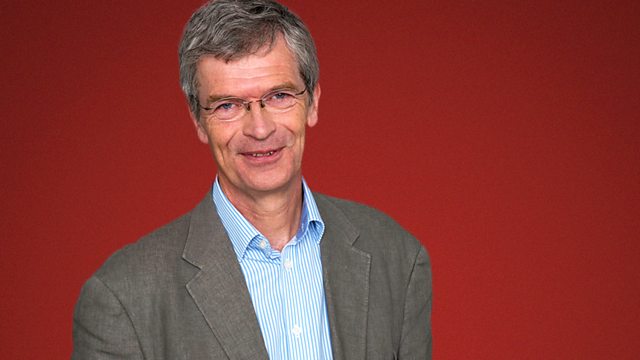 29/11/2008
With Geoffrey Smith.
Including
JRR Signature Tune:
Oh, but on the Third Day (Happy Feet Blues) (Marsalis)
Performed by Wynton Marsalis (tpt), Marcus Roberts (pno), Todd Williams (tsx), Dr Michael White (clt), Danny Barker (bjo), Teddy Riley (tpt), Freddie Lonzo (tbn), Reginald Veal (bs), Herlin Riley (dms)
Recorded 28 October 1988
Taken from the album The Majesty of the Blues
1989 CD (CBS 465129 2)
Idaho (Stone) (2'58'')
Performed by Benny Goodman and his Orchestra: Benny Goodman (cl), Dick Haymes (v), Bernie Privin, Cootie Williams, Tony Faso (t), Lou McGarity, Charlie Castaldo (tb), Hymie Schertzer, Bud Shiffman (as), Jerry Jerome, George Berg (ts), Johnny McAfee (bs), Mel Powell (p), Dave Barbour (g), Sid Weiss (b), Alvin Stoller (d), Eddie Sauter, Don Kirkpatrick (a)
Recorded 17 June 1942, New York
Taken from the album 'Benny Goodman and his Orchestra 1942 – 1944'
2003 CD (Classics 1335, Tr5)
Riverboat Shuffle (Carmichael, Mills, Parish, Voynow) (2'46'')
Performed by Dave McKenna (p)
Recorded May 1983, Indiana
Taken from the album 'A Celebration of Hoagy Carmichael'
LP (Concord Jazz, CJ 227, S1/2)
Married Man Blues (Humes) (2'55'')
Performed by Helen Humes and her All-Stars: Helen Humes (v), Wild Bill Moore (t), William Woodman (ts), Edward Hale (as), Eddie Beal (p), Irving Ashby (g), Red Callender (b), Chico Hamilton (d)
Recorded 1946, Los Angeles
Taken from the album 'Helen Humes 1945 – 1947'
1998 CD (Classics 1036, Tk10)
Things Ain't What They Used to Be (Mercer Ellington) (3'05'')
Performed by Duke Ellington and his Orchestra: Duke Ellington, Billy Strayhorn (p, arr), Taft Jordan, Shelton Hemphill, Cat Anderson, Ray Nance, Rex Stewart, Francis Williams, Harold 'Shorty' Baker (t), Claude Jones, Lawrence Brown, Joseph 'Tricky Sam' Nanton, Tommy Dorsey, Wilbur DeParis (tb), Jimmy Hamilton, Otto Hardwick, Johnny Hedges, Al Sears, Harry Carney, Russell Procope (s,c), Fed Guy (g), Alvin 'Junor' Raglin, Bob Haggart, Sid Weiss, Al Lucas, Oscar Pettiford (b), Sonny Greer, Sid Catlett (d)
Recorded 1945
Taken from the album 'Black, Brown & Beige'
1988 CD (Bluebird PD86641, CD2 Tk 14)
Red Flower (Zoe Rahman)
Performed by Zoe Rahman (p)
Recorded 2005
Taken from the album 'Melting Pot'
2005 CD (Manushi Records 002, Tk5)
Stompin' at the Savoy (Goodman, Webb, Sampson) (3'46'')
Performed by Michel Legrand (c, arr), Ernie Royal, Art Farmer, Donald Byrd, Joe Wilder (t), Frank Rehak, Jimmy Cleveland (tb), Gene Quill, Phil Woods (as), Seldon Powell (ts), Teo Macero (bs), James Buffington (fh), Don Elliot (v), Milt Hinton (b), Osie Johnson (d), Nat Pierce (p)
Recorded June 30 1958, New York
Taken from the album 'Legrand Jazz'
CD (Philips 8300742, Tk5)
St. Louis Blues (Handy) (5'55'')
Performed by Dizzy Gillespie (t), Junior Mance (p), Les Spann (f,g), Sam Jones (b), Les Humphries (d)
Recorded February 17 and 18 1958
Taken from the album 'Have Trumpet, Will Excite!'
1959 LP (EMI CLP 1318, S1/4)
Don't forget, you can have your say on today's programme, or any aspect of jazz, by visiting the Jazz Messageboard.
The BBC is not responsible for the content of external internet sites.
Last on