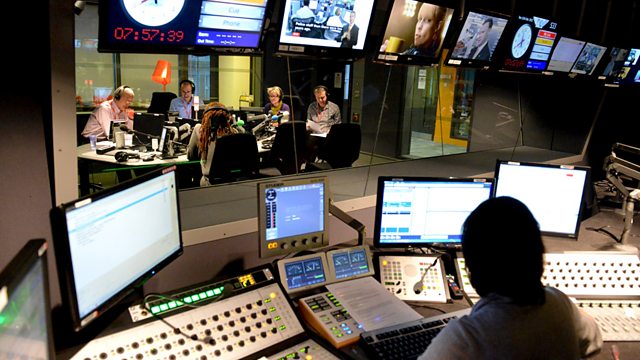 01/12/2008
Presented by Edward Stourton and James Naughtie.
Harry Fletcher, of the National Association of Probation Officers, discusses the plan for criminals to wear orange bibs to identify them as offenders.
National Clinical Director for Cancer Mike Richards discusses the first annual report for the Cancer Reform Strategy with Prof Karol Sikora, medical director of Cancer Partners UK.
Former MP Denis MacShane is concerned that MPs must be able to do their jobs.
Deputy children's commissioner for England Sue Berelowitz discusses a proposed central database for children.
Duncan Kennedy reports on the starlings covering Rome in bird muck.
The Today programme Advent calendar begins with Evan's confusion over musical veg.
Thought for the day with Canon Dr Alan Billings.
British lawyer Mark Abell describes his recent ordeal at the Oberoi Trident Hotel in Mumbai.
Robert Peston discusses how RBS is the first to follow government guidelines created to help struggling homeowners.
Justice Secretary Jack Straw gives his views on the arrest of MP Damian Green.
Chris Morris reports on how people in Mumbai are returning to normal life.
Jonathan Head reports on the British travellers stranded in Thailand.
The Independent Police Complaints Commission say a man was shot dead by police in Guildford following reports of an armed man. Jack Izzard reports.
Angus Crawford reports on a new project to combat gun and knife crime.
Cllr Steve Morphew of Norwich City Council explains why hairdressers there are banned from serving mulled wine.
Retail expert and TV presenter Mary Portas discusses what is likely to happen to Woolworths.
Writers Kanishk Tharoor and Amir Taheri discuss whether the attacks in Mumbai were aimed at India or the West.
Last on