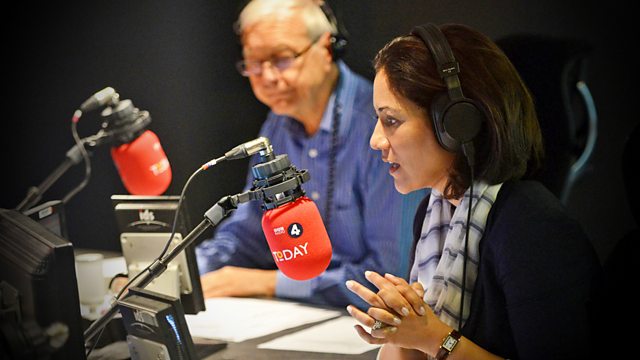 05/12/2008
Presented by John Humphrys and Evan Davis.
Justin Webb reports on sceptisism as to whether $34bn in aid will help GM, Ford and Chrysler.
Public Accounts Committee Chairman Edward Leigh says managers at CDC Group are not doing everything they should to help the poorest of the poor.
Martin Patience reports on his week with the US 101st Airborne regiment in Khost.
Mark Simpson reports on relations between the Conservatives and the Ulster Unionists.
Former adviser to Tony Blair Ros Altman and chief economist Jim O'Neill discuss the Bank of England's decision to cut interest rates to the lowest level in 57 years.
Microbiology expert Mark Wheelis discusses whether a truth serum is still science fiction.
Thought for the day with the Chief Rabbi Sir Jonathan Sacks.
International Development Secretary Douglas Alexander says that the cholera outbreak in Zimbabwe is Robert Mugabe's fault.
Publicist Max Clifford and managing editor of The Sun Graham Dudman discuss newspapers' use of rewards to help solve criminal cases.
Telephone engineer Bryan Fox, who was at the recording of the first trunk call, discusses the technological advances of the last half-century.
Pallab Ghosh discusses why the Large Hadron Collider at Cern broke down so quickly.
Sanchia Berg reports on calls for the government to help buy-to-let landlords.
Gemma Dixon discusses why she is refusing to send her daughter to school because it will not let her wear earrings with the headmaster John Hardy.
Barbara Plett visits an Islamic charity caught up in the crisis between Pakistan and India.
Former chief constable Paul Whitehouse and Rob Brown, former president of the London Courts Solicitors Association, discuss if the DNA of innocent people will still be admitted in court.
Last on
So you think you know the Today programme?