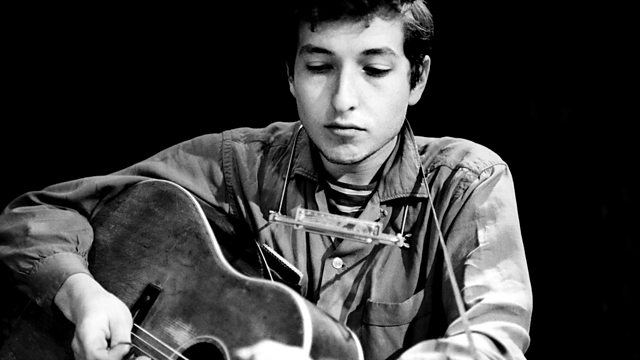 Bob Dylan's Big Freeze
Bob Harris tells the story of Dylan's extraordinary two month stay in London during the freezing winter of 1962-3, and we hear from the people who bumped into him and sent him on his way, from the folk clubs of Accrington to the tailors of Carnaby Street.
In the summer of 1962, Dylan had been spotted by BBC director Phillip Saville in a Greenwich Village basement and invited over to appear in Evan Jones's play, Madhouse On Castle Street. Receiving a fee of 500 guineas, Dylan duly flew to London to star alongside David Warner.
While he was in London, Dylan stayed with Martin Carthy, who remembers chopping up a piano for firewood during that long cold winter! While in London, Dylan became a regular figure on the burgeoning folk club circuit.
Eventually, under the pseudonym of Blind Boy Grunt, Dylan also cut an LP, recorded in basement of Dobell's record shop on Charing Cross Road with the help of a crate of Guinness.
Dylan's eight week stay resulted in a burst of original songs (Don't Think Twice It's Alright, Bob Dylan's Dream) which were heavily influenced by his exposure to traditional English folk.
The documentary first broadcast on Radio 2 in November 2008.