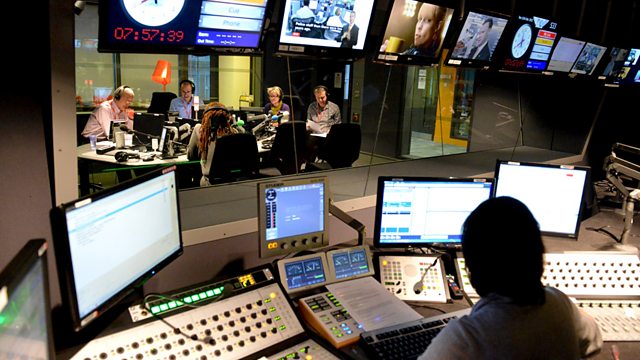 29/11/2008
Presented by Edward Stourton and James Naughtie.
Chris Morris gives the latest developments on the terror attacks in Mumbai.
Jonathan Head reports on the state of emergency in Thailand.
Stephanie Power reports from Croxteth Comprehensive, the only mixed comprehensive school in that area of Liverpool, which is facing closure following dwindling pupil numbers.
Chair of the Green party James Humphreys says the arrest of MP Damian Green looks like a terrible error.
Climate change experts Tom Delay and David Boomer discuss whether the green agenda can survive a recession.
Lynne Cadenhead, the Scottish entrepreneur who founded the board game Quest, discusses if the new Welsh, English and Irish versions will be as successful as the original.
Thought for the Day with Brian Draper, associate lecturer at the London Institute for Contemporary Christianity.
Alissa Johannsen Rubin, of the New York times, and Sir Jeremy Greenstock, former special envoy to Iraq, discuss the vote by Iraq to back a US pullout.
Chris Morris and Lt General Asad Durrani discuss who could be responsible for attacks in Mumbai.
Robert Pigott runs down the official list of the top 50 Christmas carols
Joint General Secretary of Unite Derek Simpson and Cabinet Office Minister Liam Byrne discuss what is next for New Labour
Chief executive of the RSC Dr Richard Pike says a competition about The Italian Job promotes the relevance of science.
Adam Brimelow reports on the new NHS service set up for gambling addicts.
Jonathan Head says the police are still not ready to move into airports taken over by Thai protestors.
Vincent Dowd looks at what went wrong with Woolworths.
Photojournalist David White discusses how Robert Howlett produced images of Brunel's great works.
Last on