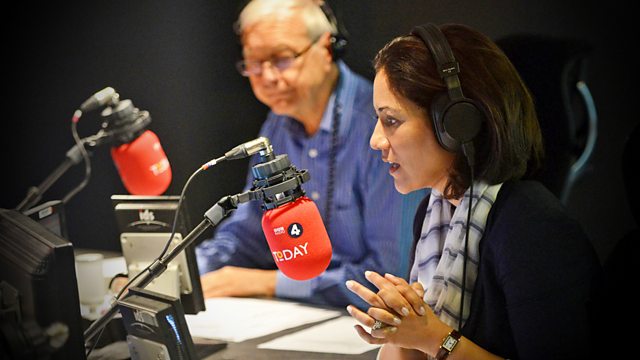 24/11/2008
Presented by John Humphrys and Sarah Montague.
Economics editor Hugh Pym and Robert Chote, of the Institute for Fiscal Studies, discuss the pre-Budget report.
Danny Shaw visits Worcester Police Station.
Maureen Treadwell, of the BTA, and Prof Cathy Warwick, of the Royal College of Midwives, debate the pros and cons of a natural birth.
Taser stun guns are to become standard police equipment. MP Alan Campbell and Amnesty International's Oliver Sprague discuss.
Peter Hahn, former MD of Citigroup, says it was inconceivable that the world's biggest bank could fail.
Actress Fiona Shaw speaks to Rebecca Jones about her new role as opera director.
Thought for the day with Canon David Winter.
Frank Gardner analyses whether Britain's intelligence services knew about the US missile strike that is believed to have killed the British terrorism suspect Rashid Rauf in Pakistan. Rashid's lawyer shares his concerns over the US air strike.
Former treasury minister Geoffrey Robinson, business editor Robert Peston and political editor Nick Robinson discuss the pre-Budget report.
Rock journalist Paul Elliot and Phil Alexander, editor-in-chief of Mojo, discuss the new album from Guns 'N' Roses.
At least 18 people have been killed in bomb attacks in Baghdad. Andrew North reports.
Wajid Shamsul Hasan, High Commissioner for Pakistan in the UK, discusses the possible collaboration between the UK and US ahead of the missile strike.
Angus Crawford reports on Britain's failure to clear the Falkland Islands of landmines.
Dr Barrett discusses whether religion is learned with Prof Lewis Wolpert.
Will a cut in VAT encourage people to spend tax cuts rather than save them? Economists Tim Harford and Steven Bell discuss.
Last on