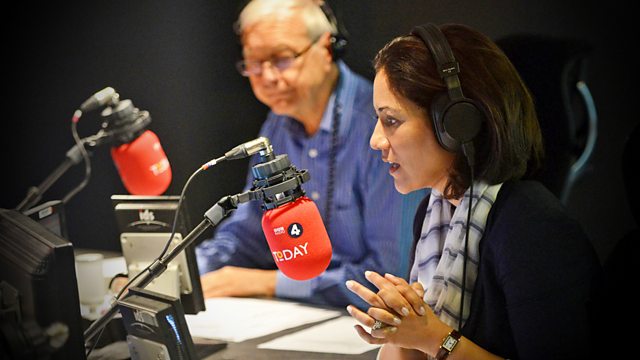 25/11/2008
Presented by John Humphrys and Sarah Montague.
Business editor Robert Peston discusses if the measures outlined in the pre-Budget report will save the UK from a deep recession.
National Director for Health and Work Dame Carol Black discusses the £100 billion lost due to work absences.
Danny Shaw reports on how the West Mercia police are taking less traditional roles on the streets of Redditch.
Artist David Cotterrell and author Richard Hollingham discuss the relationship between medicine and conflict.
Shadow Chancellor George Osborne says there is a clear choice between Labour and Conservative economic policy.
Tom Feilden reports on the Burgess Shale fossils, which are among the oldest and best-preserved fossils anywhere on Earth.
Thought for the day with the Rev Dr David Wilkinson, principal of St John's College Durham.
Prof Chris Mason, of the UK National Stem Cell Network, discusses if holding more clinical trials is the way to increase successful treatments.
Chancellor Alistair Darling discusses how he thinks increased borrowing is a gamble that is justified in the current economic climate.
Nick Robinson discusses the long term forecasts for the economy.
The WI has agreed that its members will keep an eye out for adverts selling sex in local newspapers. Isla Arundell explains.
Wyre Davies reports on the turbulent diplomatic relations between Israel and Syria.
Foreign Secretary David Miliband says there is no plan to increase the number of British troops in Afghanistan next year and urges other European countries to respond to US requests for reinforcements.
Martin Wolf, of the Financial Times, and Sir Martin Sorrell, founder of the world's biggest advertising group WPP, discuss the government's pre-Budget report.
Last on
So you think you know the Today programme?