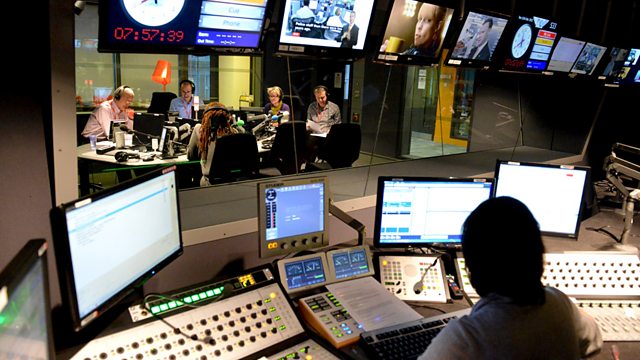 22/11/2008
Presented by John Humphrys and Edward Stourton.
Barack Obama is making Hillary Clinton secretary of state. James Coomarasamy reports.
David Loyn says the UN is unlikely to send troops to the DR of Congo.
David Coats of the Work Foundation and Jill Kirby of the Centre for Policy Studies debate what the government should do to save jobs.
MP Peter Luff voices his concerns that energy companies could be increasing their customers' direct debit payments to Russell Hamblin-Boone of the Energy Retail Association.
MP Hilary Benn says he wants a faster pace to Common Agricultural Policy reform.
The Brunel Museum's director Robert Hulse shows Sanchia Berg the world's first underwater tunnel.
Thought for the day with Brian Draper.
Anatole Kaletsky and Fraser Nelson debate whether the Conservatives' tax plans make sense.
David Loyn reports on whether similar conditions are developing in the DR of Congo as those that led to the Rwanda genocide. Former UN humanitarian chief Jan Egeland calls on the EU to act.
Reports say a British man alleged to have plotted to blow up airliners has been killed in a US missile strike in Pakistan. Barbara Plett reports.
Stryker McGuire analyses the appointment of Hillary Clinton as US Secretary of State.
MP Philip Hammond says tax cuts must be properly funded.
Dr Colin White sheds some light on the history of the lovable pirate.
Aid worker Conor Foley and Jasmine Whitbread of Save the Children UK debate whether the money raised by large-scale appeals can be put to good use.
Paul Bettison explains the problems with offloading recycled waste.
Kofi Annan and Jimmy Carter have been refused visas to Zimbabwe. Peter Biles reports.
Jim White and Zinzan Brooke discuss the idea of a home-grown Haka.
Last on