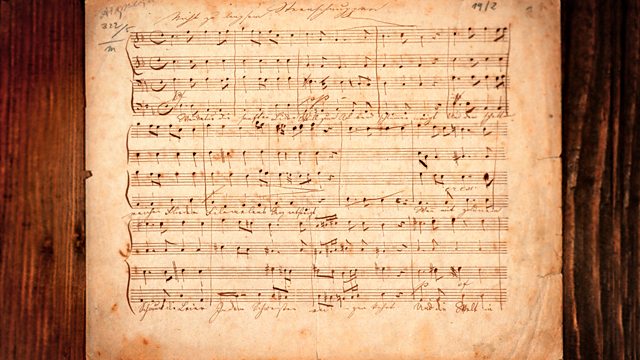 Bridge Passage
Words and Music – Bridge Passage
With Lindsay Duncan and Adam Godley
Earlier this year I read Nabokov's Bend Sinister, a novel whose protagonist Professor Adam Krug, an eminent philosopher, finds himself on a bridge. Bridges, be they literal or metaphorical take us from A to B, help us to continue our journey. But not for Professor Krug! His passage across the bridge is blocked, for at both ends guards won't let him pass. Suddenly he understands the meaning of nowhere and in a brilliant stroke (included in this Words & Music) Nabokov compares Krug to the sand in an hour glass, to an ant stranded on a piece of grass. My fascination with the bridge as a symbol had begun, and thus the idea for this programme.
In ancient times bridges didn't exist and the extract from Ovid that begins the programme, complemented by Stravinsky's Orpheus score, recalls the frustration and the aborted journeys in the era of the ferryman. Bridges don't appear in the Bible but The Psalms make an appearance in the programme in Handel's Israel In Egypt. The chorus 'He rebuked the Red Sea, and it was dried up' describes the parting of the waters, a bridge without bricks or mortar.
In poems by Longfellow and Blunden, characters on a bridge peer down into the waters to consider the passage of time, experience moments of self discovery and revisit past hurts. For the German Romantic poet Friedrich Hölderlin a bridge could offer panoramic views and, crucially, opportunities to get closer to nature – themes explored in his poem Heidelberg.
People jump off bridges, a fact well documented in Charles Dickens's newspaper sketch 'Down with the Tide', which flows into the end of Shostakovich's opera Lady Macbeth of Mtsensk with its grizzly death jumps.
One of the strangest uses of the bridge symbol in the programme comes in a Kafka short-story about a human who is literally a bridge, a virgin structure desperately seeking a traveller.
Bridges can define a town. The Bridge Over the Drina by the Bosnian Ivo Andrić flickers with unforgettable descriptions of life in Višegrad, where a bridge was revered by a diverse community.
The sequence ends with a paean to a bridge, a vision of the American Dream in the shape of Hart Crane's ecstatic poem To Brooklyn Bridge, and the similarly airborne reverberations of Sofia Gubaidulina's Offertorium.
Benedict Warren (producer)
Contributors:
Adam Godley (AG)
Lindsay Duncan (LD)
Including:
00:00:00
Ovid
Metamorphoses (excerpt)
Trans. by John Dryden
Read by AG
00:00:48
Igor Stravinsky
Orpheus (excerpt)
Royal Concertgebouw Orchestra
Neeme Järvi (conductor)
CHANDOS CHAN 9014 Tr 17
00:03:11
Ivo Andrić
The Bridge Over the Drina (excerpt)
Trans. by Lovett F. Edwards
Read by LD
00:04:16
Benjamin Britten
Curlew River (excerpt)
John Shirley-Quirk (Baritone) English Opera Group
Benjamin Britten (conductor)
LONDON 421 858 2 Tr 2
00: 07:27
Handel
Israel In Egypt ('He rebuked the Red Sea')
Monteverdi Choir, English Baroque Soloists, John Eliot Gardiner (conductor)
PHILIPS 432 110 2 CD1 Tr 11
00:10:29
Henry Wadsworth Longfellow
The Bridge
Read by AG
00:13:12
J.S. Bach (trs Walter Rummel)
Weinen, Klagen, Sorgen, Zagen BWV12
Jonathan Plowright (piano)
HYPERION CDA67481/2 CD1 Track 9
00:17:39
Ivo Andrić
The Bridge Over the Drina (excerpt)
Read by LD
00:18:59
Henri Dutilleux
Mystère de l'instant (excerpt)
BBC PO, Yan Pascal Tortelier (conductor)
CHANDOS 9853 CD3 Tr 11
00:21:08
Friedrich Hölderlin
Heidelberg
Trans. Michael Hamburger
Read by AG
00:22:23
Robert Schumann
Symphony No.3 Op.97 'Rhenish' – Final Movt
London PO, Kurt Masur (conductor)
APEX 0927 498142 Track 9
00:27:50
Franz Kafka
The Bridge
Trans. by Edwin & Willa Muir
Read by LD
00:30:54
Markku Lepistö
Silta (Bridge)
Markku Lepistö (accordion)
AITO RECORDS AICD003 Tr 10
00: 35:14
Edmund Blunden
A Bridge
Read by LD
00:37:00
Gerald Finzi
Prelude Op.25
City of London Sinfonia,
Richard Hickox (conductor)
CHANDOS CHAN 9888 Tr 7
00:41:56
Léo Ferré
Le Pont Mirabeau
Léo Ferré (vocals)
RECORDING ARTS 2X802 CD2 Tr 8
00:44:53
Vladimir Nabokov
Bend Sinister (excerpt)
Read by LD
00:46:35
Iannis Xenakis
Pléiades (excerpt)
Kroumata Percussion
BIS CD 482 Tr 3
00:46:52
Charles Dickens
Down with the Tide (Household Words)
Read by AG
00:50:02
Dmitri Shostakovich
Lady Macbeth of Mtsensk
Orchestra & Chorus of the Bastille Opera,
Myung-Whun Chung (conductor)
DG 437 5112 CD2 Tr 13
00:53:13
Ivo Andrić
The Bridge Over the Drina (excerpt)
Read by LD
00:56:51
Zoltán Kodály
Háry János Suite – Intermezzo
Chicago SO,
Neeme Järvi (conductor)
CHANDOS CHAN 8877 Tr 6
01: 01:52
Hart Crane
To Brooklyn Bridge
Read by AG
01:04:26
Sofia Gubaidulina
Offertorium (excerpt)
Gidon Kremer (violin), Boston SO,
Charles Dutoit (conductor)
DG 427 3362 Tr 1
Last on