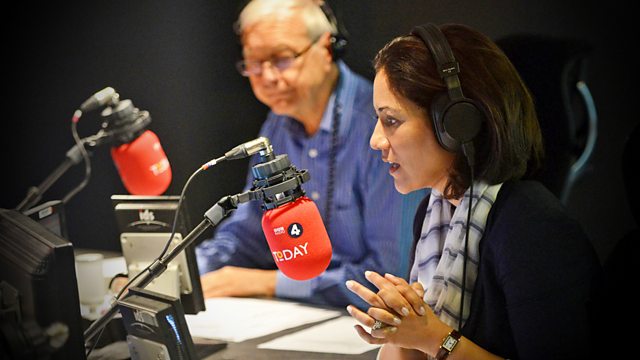 17/11/2008
Presented by James Naughtie and Sarah Montague.
Chair of the LGA Margaret Eaton explains why northern cities may cope better during a recession.
Jeremy McDermott reports on the riots in Columbia caused by fraudulent investment schemes.
Rupert Wingfield-Hayes reports on the trial of several men accused of involvement in murdering Russian journalist Anna Politkovskaya.
Elizabeth Buggins of the Organ Donation Taskforce explains the decision to reject an opt-out donor system.
Alison Holt discusses the BBC Panorama investigation into Baby P. Haringey councillor Neil Williams responds.
James Christopher looks at why, at the Royal Film Performance, the Queen is shown films that are not the critics' first choice.
Thought for the day with Canon David Winter.
Lord Mandelson discusses how to turn the UK economy around.
Iain Duncan Smith debates what the government should do to protect children.
Dr Vivian Nathanson, chair of ethics at the BMA, discusses the donor opt-out proposal.
Comedian Frank Skinner discusses whether a swearing ban would be good for the media.
Mark Doyle interviews Nigeria's former president, Olusegun Obasanjo.
Kim Catcheside gets the reaction of some teenagers to an advert by Barnardo's saying children are demonised by the public. Martin Narey of Barnardo's debates the issue with former probation officer David Fraser.
Strictly Come Dancing judge Arlene Phillips describes her frustration that John Sergeant could win the series despite his lack of skill.
A copy of a list of demands made by Cabinet Office Minister Liam Byrne has been published by The Sunday Mail. Former minister Denis MacShane and author Sir Anthony Jay discuss whether it gives an accurate insight into relations between ministers and the Civil Service.
Last on