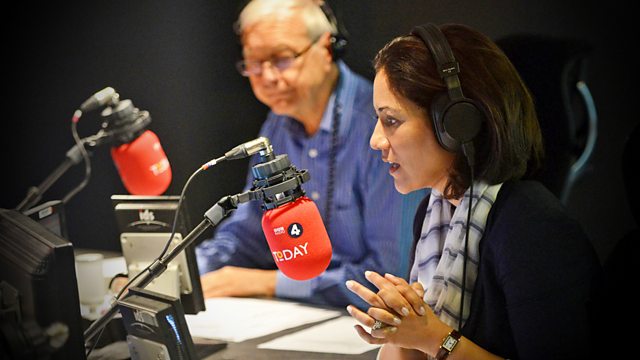 18/11/2008
Presented by Sarah Montague and James Naughtie.
Barclays bank directors are up for re-election and they say they will not be taking a bonus this year. Business editor Robert Peston reports.
Frank Gardner explains how Somali pirates are living well on the proceeds of piracy.
Jeremy Bowen assesses foreign secretary David Miliband's move to improve relations with Syria.
Jeremy Cooke explains the impact of the bee shortage.
Greg Wood reports from Detroit on how the auto industry is facing bankruptcy.
Tourism Australia has launched a global advertising campaign which it hopes will cash in on the success of the new epic film from director Baz Luhrmann, Australia. Nick Bryant reports.
Thought for the day with the Rev Tom Butler.
MP Fiona McTaggart and Dr Helen Self discuss how to protect women sex workers.
The Israeli President, Shimon Peres, discusses how to revitalise the peace process.
US Naval Commander Jane Campbell explains how pirates have seized a Saudi-owned oil tanker and are holding the crew, including two Britons, hostage.
Brian Sibley, author of the Disney Studio Story and Mickey Mouse: His Life and Times, explains the enduring appeal of Walt Disney's most famous creation.
Bill Hughes of Soca heads the fight against organised crime outside UK borders. He describes the hidden environmental and health costs of growing cocaine.
A new service has been launched this week to help doctors and dentists who have an addiction or other health problems. Jane Dreaper has a preview.
Bronwyn Curtis, head of Global Research at HSBC, evaluates whether inflation is still too high.
Bernard Donoghue, head of public affairs at Visit Britain, and Tony Reeves, author of the Worldwide Guide to Movie Locations, discuss movie tourism.
Last on
So you think you know the Today programme?