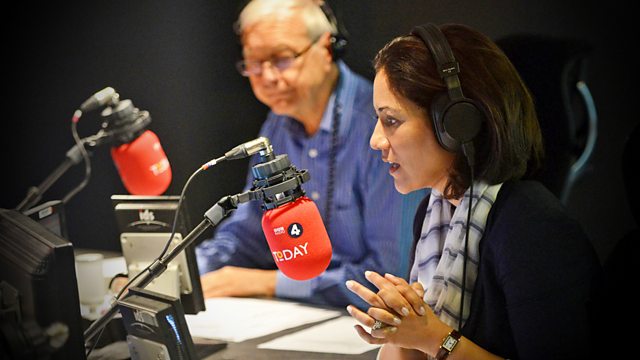 15/11/2008
Presented by Edward Stourton and Evan Davis.
Andrew Walker assesses how leaders at the G20 will work to solve the global financial crisis.
Martin Plaut explains what the British can do with the pirates captured off the Yemen coast.
David Thompson assesses the claim made by shadow chancellor George Osborne that Gordon Brown's economic policies could lead to a run on the pound.
Yesterday in Parliament.
Rwanda and the DR of Congo have agreed to cooperate to help ease the conflict. Mark Doyle reports.
Rajesh Mirchandani reports on wildfires threatening homes in California.
Emma-Jane Kirby reports on Segolene Royal's attempt to become the leader of the French Left.
Thought for the day with the Rev Rob Marshall.
Sir Peter Burt, former chief exec of Bank of Scotland, explains why he wants HBOS to abandon the proposed merger with Lloyds.
Nick Robinson outlines what world leaders will be discussing at the G20. Will Hutton, chief exec of the Work Foundation, discusses British banks with MP Michael Fallon of the Treasury select committee.
Musician Julian Cope takes reporter Nicola Stanbridge for a tour around Avebury.
Andrew Hosken visits Haringey following the case of Baby P, who died from abuse depsite being on the council's risk register. Family lawyer Sarah Harman explains what the inquiry may be focussing on.
This week the drummer with the Jimi Hendrix Experience, Mitch Mitchell, died. But why are there so few celebrity drummers these days?
Nick Jones reflects why political reporter and Strictly Come Dancing contestant John Sergeant is now considered by some as a national treasure.
The art of conversation is being killed by e-mails and texts, says author of The Art of Conversation, Catherine Blyth. Dr Bethan Marshall disagrees.
Last on