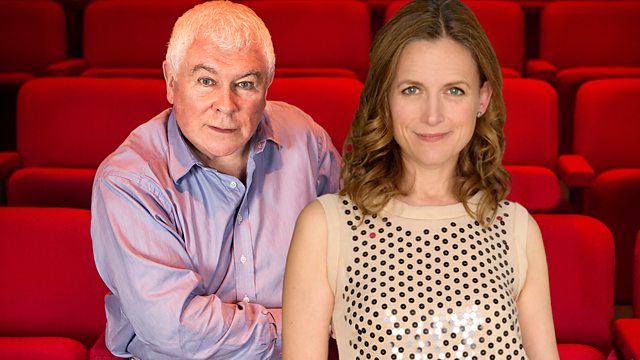 11/11/2008
Petroc Trelawny presents a selection of news and guests from the arts world.
Composer Sally Beamish talks about her oratorio The Lion and the Deer, comissioned by Portsmouth Grammar School for Remembrance Day 2007, and recorded for release in 2008. Sally is joined by countertenor Michael Chance to perform sections from the work in the studio.
Plus members of the London Sinfonietta discussing events taking place to mark the group's 40th anniversary.
17:03
GRAUN
Sinfonia in E flat major
Modern Times_1800
Challenge Classics 72193
CD 1
Tracks 4 – 6
6'55
17:11
Milton AGER/Jack YELLEN
Happy Feet
Original Rhythm Boys
Paul Whiteman and His Orchestra
Living Era CD AJS 283/1
CD 1
Track 13
3'05
17:15
Sally BEAMISH
Four Songs from Hafez (Nightingale)
Michael Chance (counter-tenor)
Sally Beamish (piano)
3'39
17:24
Sally BEAMISH
Four Songs from Hafez (Hoopoe)
Michael Chance (counter-tenor)
Sally Beamish (piano)
4'53
17:36
Sally BEAMISH
The Lion and Deer (Hoopoe (2))
Michael Chance (countertenor)
Portsmouth Grammar School Chamber Choir
London Mozart Players
Nicolae Moldoveneau (conductor)
Avie 2147
Track 9
6'13
17:43
VAUGHAN WILLIAMS
Tuba Concerto
Øystein Baadsvick (tuba)
Singapore Symphony Orchestra
Anne Manson (conductor)
BIS-CD-1515
Tracks 1 – 3
11'50
17:56
BAZZINI
La Ronde des lutins (Scherzo fantastique) (Op.25)
Jascha Heifetz (violin)
Emmanuel Bay (piano)
EMI 2 17312 2
CD 5
Track 2
4'22
18:04
MOZART
Ch'io mi scordi di te? (K.505)
Kiri Te Kanawa (soprano)
Mitsuko Uchida (piano)
English Chamber Orchestra
Jeffrey Tate (conductor)
Philips 420 950-2
Track 4
9'45
LIVE
18:14
MESSIAEN
Le Merle noir
Karen Jones (flute)
John Constable (piano)
5'37
LIVE
18:26
TAKEMITSU
And then I knew 'twas wind (extract)
Karen Jones (flute)
Paul Silverthorne (viola)
Helen Tunstall (harp)
5'10
LIVE
18:36
DEBUSSY
Sonate en trio (Pastorale)
Karen Jones (flute)
Paul Silverthorne (viola)
Helen Tunstall (harp)
7'00
18:44
Ernest FARRAR
Heroic Elegy (Op.36)
Philharmonia Orchestra
Alasdair Mitchell (conductor)
Chandos CHAN9586
Track 4
7'57
18:53
BACH
Cantata No. 41 (BWV.41 (Jesu, nun sei gepreiset)
Monteverdi Choir
English Baroque Soloists
John Eliot Gardiner (conductor)
SDG 150
CD 1
Track 8
7'34
Last on