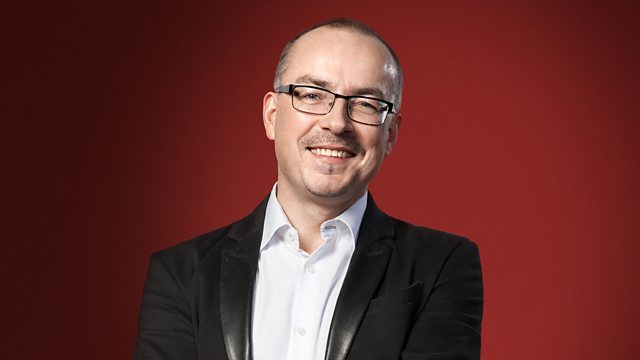 Building a Library: Howells: Requiem
Andrew McGregor introduces Radio 3's programme devoted to recorded music.
Building a Library:
Howells: Requiem
Reviewer - Jeremy Summerly
First choice:
(c/w Magnificat and Nunc Dimitis; Like as the Hart; Paen for Organ; Long, Long Ago; Office of Holy Communion – Collegium Regale; Rhapsody No. 3 for Organ; Take Him Earth, for Cherishing)
St. John's College Choir, Cambridge, Iain Farrington (organ), Christopher Robinson (conductor)
Naxos 8.554659 (CD, Budget)
CD Review BAL Catalogue Data
bal.howells:
bal.howells.requiem
09.05am
Mozart: Opera and Concert Arias
(Arias from La finta semplice, Die Entführung aus dem Serail, Die Zauberflöte, Don Giovanni, Le nozze di Figaro, Mitridate, rè di Ponto and La clemenza di Tito)
Diana Damrau (soprano), Le Cercle de L'Harmonie, Jérémie Rhorer (conductor)
Virgin 212023 (CD)
Susan Chilcott in Brussels
(Extracts from The turn of the Screw (Benjamin Britten), Otello (Verdi), Ariadne auf Naxos (Richard Strauss), Wintermarchen (Philippe Boesmans), and Peter Grimes (Benjamin Britten))
Susan Chilcott (soprano), Symphony Orchestra and Chorus or La Monnaie, Antonio Pappano (conductor)
Cypres CYP8601 (CD)
René Pape – Gods, Kings and Demons
(arias from Faust (Gounod), Mefistofele (Boito), La Damnation du Faust (Berlioz), Don Carlo (Verdi), Les Contes d'Hoffmann (Offenbach), Das Rheingold (Wagner), Tristan und Isolde (Wagner), Demon (Rubinstein), Rusalka (Dvorak), Boris Godunov (Mussorgsky))
René Pape (bass), Staatsopernchor Dresden, Staatskapelle Dresden, Sebastian Weigle (conductor)
Deutsche Grammophon 477 6408 (CD)
BELLINI: La sonnambula
Cecilia Bartoli (Amina), Juan Diego Florez (Elvino), Illdebrando D'Arcangelo (Il conte Rodolfo), Gemma Bertagnolli (Lisa), Liliana Nikiteanu (Teresa), Peter Kalman (Alessio), Javier Camarena (Un notaro), Chorus of the Opernhaus Zurich, Orchestra La Scintilla, Alessandro De Marchi (conductor)
Decca 478 1084 (2 CDs)
09.30 am
Building a Library Recommendation
Howells: Requiem
Reviewer – Jeremy Summerly
Next week David Owen Norris examines recordings of Haydn's Piano Sonata in C HobXVI/50.
10.30 a.m. New Releases
Graeme Kay looks at some recent releases of organ music.
11.05 New Releases
HOLST: The Planets (acoustic recording from 1922 and 1923)* from disc Gustav Holst Conducts the Planets
(c/w St. Paul's Suite; Beni Mora; Songs without Words)
London Symphony Orchestra*, The String Orchestra, Gustav Holst (conductor)*
Pearl GEMMCD9417 (CD)
HOLST: The Planets (re-mastered acoustic recording from 1922 and 1923)
London Symphony Orchestra, Gustav Holst (conductor)
Pristine Audio PASC131 (FLAC download) See http://www.pristineaudio.com/
STANFORD: Symphony No. 1 in B flat major (second movement)
(c/w Clarinet Concerto Op. 80)
Bournemouth Symphony Orchestra, David Lloyd-Jones (conductor), Robert Plane (clarinet)
Naxos 8.570356 (CD, Budget)
ELGAR: The Dream of Gerontius Op. 38 (excerpts)
Halle Orchestra, Alice Coote (Angel), Paul Groves (Gerontius), Bryn Terfel (Priest/Angel of the Agony), Halle Choir, Halle Youth Choir (semi-chorus), Mark Elder (conductor)
Halle CDHLD7520 (2 CDs, Mid Price)
VAUGHAN WILLIAMS: Concerto for Bass Tuba (finale)
(c/w ARUTIUNIAN: Concerto for Tuba and Orchestra; LUNDQUIST: Landscape; WILLIAMS: Concerto for Tuba and Orchestra)
Oystein Baadsvik (tuba), Singapore Symphony Orchestra, Anne Manson (conductor)
BIS-CD-1515 (CD)
11.35am Disc of the Week
SCHUMANN: Violin Sonata No. 2 in d minor Op. 121
(c/w Violin Sonata No. 1 Op. 105; Violin Sonata No. 3 WoO2)
Carolin Widmann (violin), Denes Varjon (piano)
ECM 476 6744 (CD)
Last on