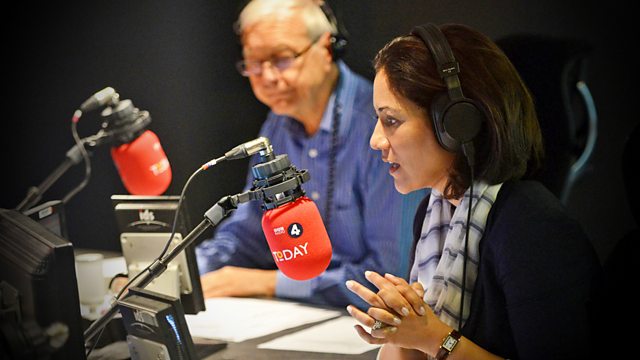 10/11/2008
Presented by Sarah Montague and John Humphrys.
Chair of the Home Affairs select committee Keith Vaz, and Anita Adams, member of the Federation of Licensed Victuallers Associations, discuss alcohol use.
Bob Ayers discusses what may have led to the deaths of 20 people on a Russian submarine.
Pallab Ghosh reports on the many so-called health remedies advertised on the internet which are expensive, untested and do not work.
Former head of the RBS Sir George Mathewson says there is no longer a need to rescue HBOS.
Douglas McWilliams of the Centre for Economics and Business Research and economic adviser Ruth Lea discuss tax cuts.
Prof Peter Sever explains how statin use may benefit healthy people.
Rolf Harris is to re-record his 1969 hit Two Little Boys to mark the 90th anniversary of the end of WWI.
Thought for the day with the Rabbi Lionel Blue.
Scotland's First Minister Alex Salmond says the planned takeover of HBOS should be halted.
Lord Falconer discusses privacy laws with the managing editor of The Sun, Graham Dudman.
Julian Lloyd Webber and Diane Baxter discuss why music teachers should avoid touching their pupils.
Nick Robinson examines the political thinking behind government tax cut promises.
Jeremy Bowen reports on the Hamas threats to boycott Palestinian talks.
South African singer and anti-apartheid campaigner Miriam Makeba has died aged 76.
The Open Spaces Society is campaigning to protect the three percent of English countryside that remains as common land. Sarah Mukherjee reports.
Ian Hislop discusses the history and experiences of conscientious objectors.
One of Christianity's holiest sites in Jerusalem is calm again after a brawl broke out there between two groups of monks. Wyre Davies reports.
Last on
So you think you know the Today programme?