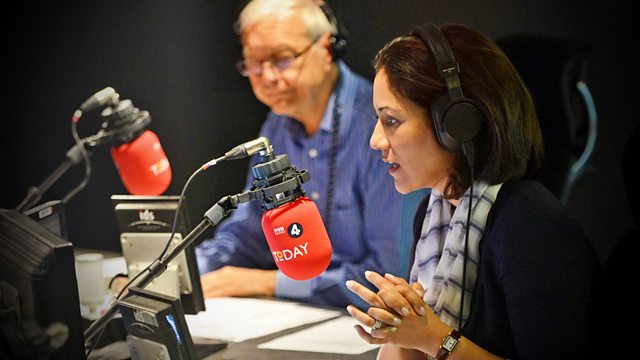 14/11/2008
Presented by John Humphrys and Evan Davis.
Andrew Nielsen explains a new report that finds that children in Jersey have less protection than those in the rest of the UK.
Robert Peston reports on how Barclays Bank has turned to the Middle East to raise capital.
Frank Gardner reports on the assessment from the head of the CIA on the global threat posed by Al-Qaeda.
Dmitry Babich examines President Dmitry Medvedev's proposal to extend the Russian presidential term from four to six years.
Supt Dal Babu, of the National Association of Muslim Police, and chief constable Steve Otter discuss why police chiefs want to boost the number of Muslim police officers in order to help tackle extremism.
John Culshaw reports on what Prince Charles may receive for his 60th birthday.
Richard Lister reports on Hedge Fund regulation in the US.
Thought for the day with Abdal Hakim Murad.
Childcare specialist Marion Brandon discusses child protection.
Construction equipment firm JCB is to shed 398 jobs. Chief exec Matthew Taylor explains why.
Nick Robinson asks economist Paul Krugman what challenges world leaders are facing. Prof Willem Buiter assesses the forthcoming G20 talks.
The Prince of Wales is 60 years old. Peter Hunt talks to the Prince's critics, friends and advisors.
Lawyer Lawrence Davies explains how his client, former social worker Nevres Kemal, warned of the risks to children in Haringey in February 2007. Mike Wardle examines the case.
Former Paymaster General Geoffrey Robinson discusses the UK banking system and the pre-budget report.
Chris Riddell discusses what makes a great children's book with author Andy Stanton.
Sir Peter Hall and author Martin Baker discuss whether artists will be inspired by the current financial crisis.
Last on