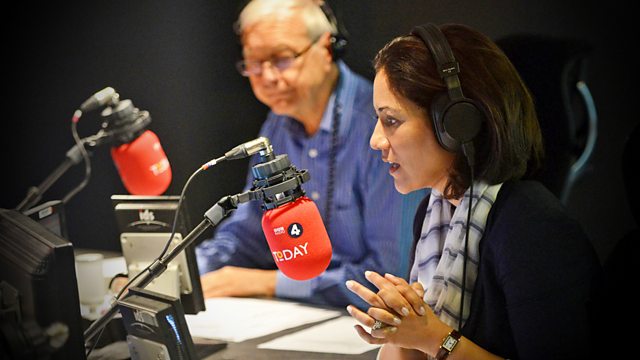 12/11/2008
Presented by James Naughtie and Evan Davis.
Economics editor Hugh Pym gives the latest prediction of the expected rise in unemployment figures. Nick Garnett reports from Sheffield.
The death of the little boy known as Baby P in north London has led to another review of child protection in England. Wes Cuell, acting chief executive of the NSPCC, discusses what it is likely to find.
Foreign secretary David Miliband visits Syria next week, a move that signals improving relations with Damascus. Middle East editor Jeremy Bowen reports.
Environment analyst Roger Harrabin reports on criticisms that the government has dithered over policies vital to energy security.
The EU is scrapping regulations that govern the shape and size of fruit and vegetables. Dominic Hughes reports.
Adrian Shine discusses why the myth of the Loch Ness Monster endures.
Dr Mark Hamilton and Prof Sheila McLean debate the number of children a sperm donor should be allowed to create.
Children's minister Beverley Hughes, trainer for child protection officers Joanna Nicolas and social policy expert Eileen Monroe discuss what a review into child protection will need to do to prevent tragedies in the future.
Prof Sir John Lawton has released a study which highlights safety concerns over nanotechnology.
Energy minister Mike O'Brien outlines the government's energy strategy in the face of warnings from experts that the UK faces possible power shortages over the next decade.
Col Stuart Tootal and Afghan foreign minister Dr Rangin Dadfar Spanta discuss whether the battle for Afghan hearts and minds can be won.
Former Conservative Chancellor Kenneth Clarke and former Home Secretary David Blunkett debate how to get people back into work in difficult economic circumstances.
Last on