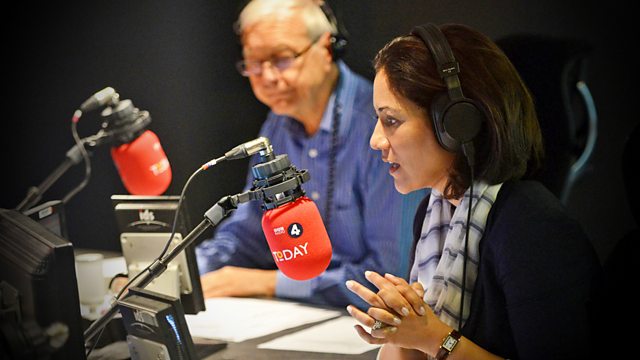 08/11/2008
Presented by John Humphrys and Edward Stourton.
Arif Ansari reports on the suggested institutional racism of Britain's political system.
Orla Guerin reports on further clashes in the DR of Congo.
Nick Servini reports on steel company Corus's plans for a 30% cut in production.
Wyre Davies reports on the decision by Israel's Supreme Court to build a museum over part of an ancient Muslim cemetery.
Bruce Belzowski, of the University of Michigan's Transportation Research Institute, and North America editor Justin Webb discuss what can be learned from Mr Obama's first dealings with the press since the election.
Frank Leeson is the last surviving British officer to have served in Waziristan, now a frontline region in the so-called war on terror. Zubeida Malik reports on his remarkable story.
Thought for the day with the Rev Rob Marshall.
US assistant secretary of state for African affairs, Jendayi Frazer, and Anneke van Woudenberg, of Human Rights Watch, discuss unrest in DR of Congo.
Labour MP Sadiq Khan discusses the possible rise in the number of black, minority and ethnic MPs.
General secretary of the TUC, Brendan Barber, and chief economist at the Engineering Employers' Federation, Stephen Radley, discuss the economic downturn in manufacturing.
Treasury spokesman for the Lib Dems, Vince Cable, and capital markets editor for the Financial Times, Gillian Tett, discuss how banks can encourage lending.
Nicola Stanbridge talks to the star of TV soap Dallas, Larry Hagman, about the show's lasting appeal.
Local man Louis Robert Malbranche describes the scene at the collapse of a school building in Haiti.
Former ambassador to Washington Sir David Manning and historian Alastair Horne discuss the global reaction to Barack Obama.
Last on