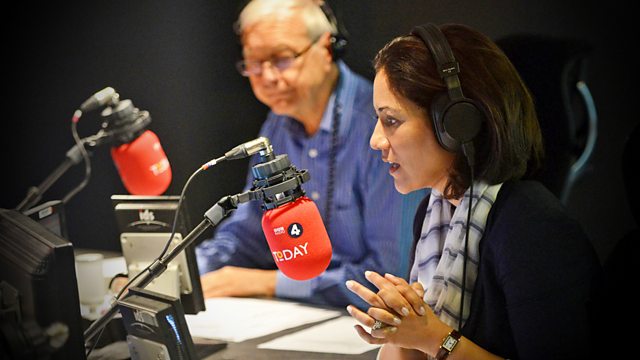 03/11/2008
Presented by John Humphrys and Sarah Montague.
Justin Webb reports on the final day of campaigning in the US presidential elections.
George Thomson, general secretary of the National Federation of Sub-Postmasters, discusses the future of funding at the post office.
Sir Pritpal Singh, head teacher at Drayton Manor High School in Ealing, London, and Martin Rogers, from the Children's Service Network, debate whether the schools admissions code, made law last year, has prevented back door selection?
Foreign Secretary David Miliband discusses what Britain is prepared to do to aid the people of the Democratic Republic of Congo.
Dr Peter Jones, co-founder of the charity Friends of Classics, imagines the response of a senior civil servant to the banning of Latin words.
Thought for the day with the Rabbi Lionel Blue.
MPs Chris Grayling and Liam Byrne discuss research which suggests that the equality gap in Britain is declining.
On the last day of campaigning, the two men seeking to become the next President of the United States face an exhausting schedule of election rallies. James Naughtie reports on the race for votes.
BBC correspondent Alastair Leithead has just finished a two and a half year posting in Afghanistan, embedding with troops 26 times. He discusses the successes and failures in the conflict, and questions whether an end game will ever come.
Comedian Arthur Smith and the Chairman of the English Subbuteo Table Football Association, Martin Hobbs, discuss the joys of a phenomenon which at its peak captivated millions.
Jon Manel reports on the judicial review of a proposed academy in Camden.
Opera singer Carry Persson discusses war songs with the Spectator's opera critic Michael Tanner.
Last on